Bonner Springs wrestlers ready to compete
Bonner Springs wrestling coach Brandon Jobe is excited for the upcoming season, and for good reason. He has a returning state champion, several wily veterans and a strong group of freshmen that could have an immediate impact at the varsity level.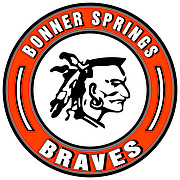 The Braves will kick off the 2015-16 season at 5 p.m. tonight as they play host to Kaw Valley League rival Basehor-Linwood. It's the beginning of a campaign that Jobe has high hopes for as the Braves make the jump to Class 5A.
The freshman group is composed of 26 wrestlers, most of which have already been forged in the fires of the Bonner Springs middle school program.
"It's always exciting to have a young group where you know the future is bright," Jobe said. "Last year we kind of had a disappointing finish to our season, and we were kind of needing to be refreshed and rejuvenated, and this group is definitely doing that. They're a pretty talented group, there's a lot of them, and they know how to work hard."
The Braves will have plenty of varsity experience returning to the fold as well. It starts with junior Tanner Hitchcock, who will try to repeat as a state champion. Hitchcock finished last season with a 35-4 overall record at 113 pounds, and is the No. 1-ranked wrestler in the state at 120 pounds this season. The task of repeating is easier said than, however, and Hitchcock knows he has a big target on his back.
"This time of year, I sit down with each one of my guys and have a one-on-one meeting," Jobe said. "They're required to bring their written goals to me and the steps they plan to take to accomplish those goals. Tanner has a goal to be a state champion again. He's put in a lot of time in during the offseason, and he wrestled in just about everything over the summer. He spends a lot of time in the weight room and working on his nutrition. He's a well-rounded kid and a well-rounded athlete. He know what he has to do."
Also returning to the team are senior Kolbe Seaton and junior Sean Singleton, who each won a match at the state tournament last season. Senior Collin Wallar also returns and enters the year as the No. 5-ranked wrestler at 132 pounds. Junior Gage Herron will be a key contributor, and several sophomores and a few "impact freshmen" will be competing to fill in varsity spots.
"[Seaton and Singleton] kind of got their feet wet at the state tournament last year, so they know what it takes," Jobe said. "They've worked on some things during the offseason, and they're prepared to get back to that point. We've set their goals a little bit higher this year."
With 47 wrestlers on the preseason roster, the Braves are hoping the breed a high level of competition between teammates. It's a special dynamic that Jobe said will only give the team more fire and passion it embarks on the season.
"We'll have some battles in some weight classes for varsity spots whereas the last couple of years, the numbers were down a little bit, and there wasn't that competition," Jobe said. "I think that competition is making the kids work a little harder to earn those spots. It makes them better, and it ultimately makes the team better."
---
Jon Poorman is the sports editor at The Chieftain. Follow him on Twitter at @JonPoorman for all of the latest community sports news.