Bonner Springs advances to championship game
The Bonner Springs boys basketball team advanced to the finals of the Eudora Invitational on Tuesday with a 52-45 victory over Eudora.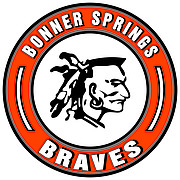 Devante McGee led the Braves with 16 points, while teammates Jamison Jackson and Antonio Roark finished with 14 and 13, respectively.
Bonner Springs will be back in action at 8 p.m. on Friday as it faces off against Truman in the championship.
BSHS girls lose to Paola
The Lady Braves, competing in the Paola Tournament, lost to Paola on Tuesday, 62-42. Bonner Springs was led by Julianne Jackson, who scored a team-high 14 points.
The Lady Braves will be back in action at 6:30 p.m. on Friday.
---
Jon Poorman is the sports editor at The Chieftain. Follow him on Twitter at @JonPoorman for all of the latest community sports news.