Face to Face: Bonner Springs teacher Sarah Kassen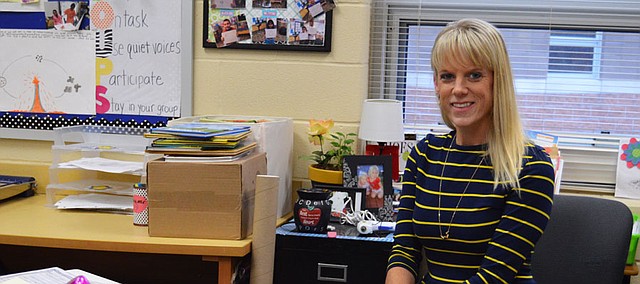 Name: Sarah Kassen
Birthplace: Kansas City, Kan., though she grew up in Bonner Springs
Family: Husband, Wes; two daughters, Sloan, 11, and Stella, 7
Occupation: Third grade teacher, Delaware Ridge Elementary
Dream job as child: Kassen admits to having a brief dream of becoming an astronaut.
"I didn't do anything more about it, other than get an astronaut Cabbage Patch Kid," she jokes.
She said she also set her sights on being a teacher early on.
"It's kind of cliché to say you line up your stuffed animals and play school with them, but that's literally what I did," she said. "It's always been what I wanted to do."
Hobbies: Exercising, shopping, browsing Pinterest and creating some of the crafts and projects she finds there.
Digging deeper: Kassen first taught in Texas, where she lived for seven years due to her husband's job.
When he was transferred to St. Joseph, Mo., in 2008, she decided to apply to her childhood school district. She has worked at DRE ever since fall 2009 and says she enjoys being "home" in that sense.
"I have some of my friends' children in my class," she said. "And every now and then, a familiar face will come through the school, and I'm like 'Oh my goodness, we went to school together.'"
Kassen said she has loved DRE's commitment to Expeditionary Learning, which integrates reading and math into science and social studies standards through explorations.
"That's fun, I think it's authentic and purposeful; kids enjoy it," she said.
Kassen, who was recognized as the Bonner Springs-Edwardsville Chamber of Commerce's Teacher of the Month for December, said she loves watching students make progress and making a difference in their lives.
"Teachers have a much bigger role than being instructors," she said. "We're nurses, we're moms, we're counselors."
Kassen said one recent example was of a student whose math scores improved significantly.
"She was like, 'Thank you for being a good teacher, thank you for helping me;' it was just the sweetest thing," Kassen said. "You feel really valued in this position. And the parents, too, they're just so grateful. It's nice to hear good things."