Certified smart: First semester nursing aide students pass boards
New class allowed students to take course on
BSHS

campus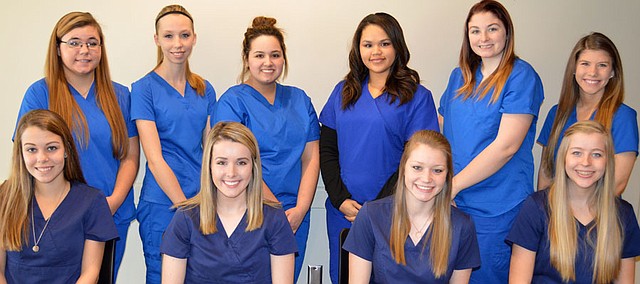 On Monday, when 10 students in Bonner Springs High School's first-ever on-campus certified nursing assistant class took their boards, they said they felt ready.
Every test handed out for boards is different, with pools of questions picked at random, so the students didn't know in what areas exactly they would be tested.
"We did a lot of practice, though," Heidi Rodgers said.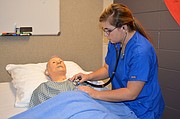 "Debbie (Horton, instructor) had a lot of practice tests she gave us, so we knew what to expect."
The good news is, all 10 students in the class passed. Jared Jackson, assistant principal at BSHS, said that Horton couldn't remember if she had ever had every student in a class of 10 pass their boards.
It was a successful end to the first semester course, which gives students five college credit hours as well as their CNA and CPR certification.
The district worked for two years to bring the course to the BSHS campus, and a $19,230 grant they received through the county last spring helped things solidify. At the time, taking the CNA course required traveling to the campus of Kansas City Kansas Community College, and three of the students were signed up to take the class in the fall and three in in the spring.
Bringing the class on campus caused some last-minute reworking of schedules, but the six students planning to take the course at KCKCC were able to get into the fall on-campus class, in addition to four others, and another 10 signed up for the spring semester.
Students said they enjoyed having the class on campus for several reasons.
"It made us really confident that we were going to have it at the school," Hanna Wenzel said. "I just liked it because we were able to stay at the high school and finish out our senior year, making more memories besides going back and forth to college, I think it takes away from your senior year when you want to live it up at high school."
The students said it was nice not to be thrown in with KCKCC students they didn't know.
"It was really comfortable to have it here, and then Debbie's personality made it comfortable to make it feel like we didn't have as much pressure on us," Taylor Vanden Horn said.
"There still was some pressure, though, knowing that this was the first CNA class at the school," Hayley Butler added.
The students didn't even need to travel far to complete their clinical rotations, which took place at Bonner Springs Nursing and Rehabilitation. The students said their clinicals opened their eyes to some of the realities of nursing.
"I didn't realize so much happens in a nursing home; a lot happens in a few hours," Vanden Horn said.
The now-certified students need to finish out the school year but hope to find jobs as CNAs over the summer and while they are in college.
"We want to go in the medical field, so you can get your foot in the door and get some experience," Rodgers said.
For the students taking the class next semester, those who had completed the class had some advice.
"Be open to new things," Wenzel said. "Because once you walk in the door, you never know what to expect on a day-to-day basis."
"Don't be timid, because that will hurt you in the long run," Vanden Horn added. "You just need to go in the first day wanting to learn and wanting to do stuff, because otherwise you'll get behind."