Breaking the mold: Male teachers at Bonner school serve as role models, break stereotype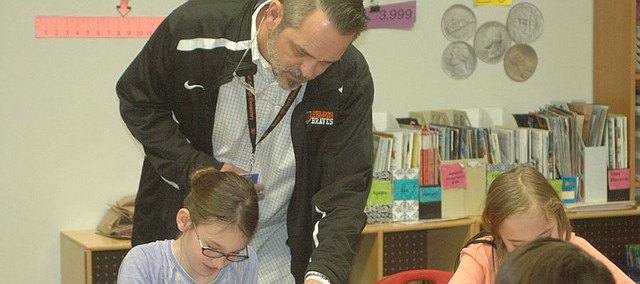 In his first year as a teacher, Patrick Redlin saw first hand how being a male teacher affected his students.
A girl in his fifth grade class had experienced abuse by a male, and having never had a male teacher before, she was initially afraid to even enter his classroom.
"At the end of the year, she started giving me hugs and was telling me that I was her favorite teacher, so it was a really cool thing to see," said Redlin, who now works as a first grade teacher at Bonner Springs Elementary School. "And that's what I'm hoping, getting to them earlier so they can see positive male role models. It's really important for kids to see a positive male role model in their life early on, hopefully before fifth grade."
The students at BSE benefit from several positive male role models in the form of their teachers. In an age when nationally, the percentage of male teachers in public schools is 23 percent — and most of those at the secondary level — BSE continually has a relatively high number of male teachers.
Many of the teachers at BSE agreed that it has become a stereotype that other than a custodian, the only male teacher in an elementary school is likely to be the Physical Education teacher. But BSE not only has a male P.E. teacher — and an award-winning one at that with 2015 Kansas Teacher of the Year Finalist Beau Bragg — it has a male teacher in kindergarten and first, second and fifth grades.
"I think having a large male group has helped with our overall school climate," says Chuck Loganbill, fifth grade teacher who has been at BSE since 1998. "We all enjoy working with kids and we have a good time doing it. It's important for the kids to see us as role models."
Don Cooley, second grade teacher, is now in his 10th year of teaching at BSE, and he said there were five male teachers at the school when he first arrived.
"So it's been the whole course that I've been here," he said. "We've lost some, and we've gained some, but there's always roughly around five or six."
Last year, there were even more males at BSE, with a second male teacher in first grade and one in third grade.
Jody Moeschler, first grade teacher, says she sees multiple benefits to having a healthy number of male teachers in the school.
"We do have a lot of single parent homes; we have kids living with single dads, and we have kids living with single moms," she said. "And to have that strong male influence is super important."
She said having male teachers also breaks stereotypes for the students, who she said need to learn that all jobs are possible for them, so they see that teaching at the elementary level isn't just a job for women.
"I think the other advantage is sometimes when kids need to talk, it's nice that they know that they have a girl to talk to that may be like a mom, but they also have a 'dad' to talk to," she said. "Some open up more to guys and some open up more to girls, and that's definitely a strength, that we have that ability."
The National Education Association reports that male teachers comprised 23.8 percent of U.S. public school teachers in 2013-14. Kansas is above average and in fact has most male teachers of any state with 33 percent male teachers.
But while state information was not broken down by grade level, national numbers indicate most of those male teachers would be at the secondary level. According to the organization Men Teach, in 2014, male teachers accounted for only 2.8 percent of preschool/kindergarten teachers and 19.1 percent of elementary and middle school teachers.
Jason Utlaut is perhaps the rarest of his species as the male kindergarten teacher. In his fifth year at BSE and third in kindergarten, he said it's a role he takes seriously, because he has seen parents' surprise at learning their child is in his class.
"The parents in the beginning might be a little hesitant at first for a male teacher," Utlaut said. "That's why personally, I take so seriously the responsibility of just being a kindergarten, male teacher. For the Don Cooleys and the Patrick Redlins, and even Beau Bragg, because I'm the first male teacher that they see when they're coming up … And I can understand that, with 3 percent of male (kindergarten) teachers, sure, you might be a little hesitant. It's my responsibility even more, that if they get another male teacher, there won't be that hesitance."
Overall, Bonner Springs-Edwardsville USD 204 seems to be doing a good job of attracting male elementary-level teachers. There are currently five male teachers at Delaware Ridge Elementary, as well, including the art, media center and P.E. teachers. Edwardsville Elementary has three male classroom teachers.
So of the district's 80 elementary classroom teachers, excluding special education teachers, 16 percent are male.
This is more than double some area districts. Of 50 total classroom teachers in Basehor-Linwood USD 458's three elementary schools, four are male — less than 1 percent. De Soto USD 232 has just under 5 percent, or 13, male teachers in its seven elementary schools.
As the principal of Bonner Springs Elementary School since 2008, Kim Mitchell says she doesn't make a special effort to seek out male elementary teachers, which are in high demand.
"But we always seem to get good applicants when we have an opening, and these applicants include males," she said.
Mitchell also has first-hand experience how the school's higher-than-usual number of male teachers has benefited its students.
"My son is majoring in elementary/special education at Kansas State University, and he was a BSE student," she said. "I firmly believe that his experience with male teachers led him on this path."