No. 6 Mill Valley girls hold off Bonner Springs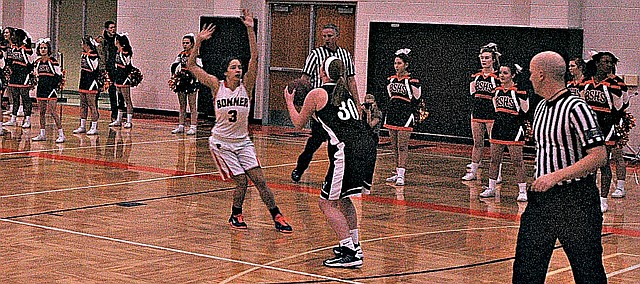 Bonner Springs — Mill Valley held Bonner Springs without a point for more than six minutes spanning the second and third quarters, paving the way for the Lady Jaguars' 48-36 road victory on Tuesday evening.
Jabria Leggett scored a game-high 19 points for No. 6 state-ranked Mill Valley (14-3, 10-1 in Kaw Valley League play), and teammate Catie Kaifes finished with 13. Whitney Hazlett and Lexi Myers each added eight to round out the scoring.
Julianne Jackson led the way for Bonner Springs (11-5, 8-3) with 13 points, and Miyah Hightower and Caitlin Reed each added five.
"I like the way we just bowed our backs and battled every trip," Mill Valley coach John McFall said. "I thought we had some very good offensive possessions, and we had some pretty good defensive stands. We played seven people, and all seven of them stepped up and did a nice job. Tonight, I think we were extremely solid."
After a low-scoring first quarter that ended with an 8-5 Bonner Springs lead, the Lady Jaguars started to get the momentum rolling in their favor. Kaifes hit back-to-back layups to give Mill Valley a 14-10 lead with 4:33 to play before halftime.
The Lady Jaguars then dug their heels in defensively and scored six of their final eight points of the half at the free-throw line for a 24-17 advantage at the break. Bonner Springs' final basket of the half came at the 2:30 mark, and the Lady Braves wouldn't add to their total again until 4:16 was left in the third quarter.
"We're not playing with any confidence right now, and we're not attacking the basket," Bonner Springs coach Clay Oakes said. "They did a great job attacking the basket on us, and we didn't guard very well tonight. It all starts on the defensive end, and the defense just wasn't there. That's what usually fuels our offense."
Mill Valley grabbed its first double-digit lead at 28-17 on a layup by Kaifes midway through the third and entered the final period with a 34-23 lead. The Lady Jaguars, despite missing starter Courtney Carlson with a concussion, were able to hold Bonner Springs at arm's length the rest of the way.
Mill Valley finished the game 24 of 27 at the charity stripe, including an 8 for 9 performance in the fourth quarter to help seal the win.
"We're a good free-throw shooting team, so when we get the lead, we're able to expand the floor a little bit like we did," McFall said. "That helps get Catie open inside, and she was a very strong player inside. … It's like Coach (Bill) Self says, when you've got an inside presence, it opens everything up."
---
Jon Poorman is the sports editor at The Dispatch and The Chieftain. Follow him on Twitter at @JonPoorman for all of the latest community sports news.