Bonner-based Ag Hall past 'mid-life crisis,' planning for future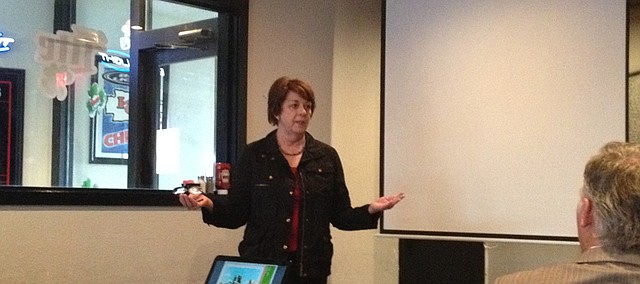 As the National Agricultural Center and Hall of Fame celebrates its 50th year this year, the Ag Hall's new director, Dawn Gabel, says she thinks it's only natural that it had something of a "mid-life crisis" last year.
Of last year's decision not to open for regular hours during the 2014 season in light of recent budget issues, Gabel, who was hired in December as the Ag Hall's new director and coordinator, said sometimes blessings come in strange packages.
"It was a really, really good thing to do, to step back and say 'Why do we exist, should we exist, and where do we want to go in the next 50 years?'" she said. "If you don't have a mid-life crisis at 50, or a reorganization of what it is you want to do — I did that at 50, too… So it's not an odd or bad thing that the center did this."
Gabel addressed the Bonner Springs Rotary Club at its meeting Monday, sharing a little bit about her background and the Ag Hall's plans for this year and the future, including a new exhibit and hopes for more involvement from corporate supporters.
Gabel has a background of working with nonprofit groups and agriculture-related groups in Hays, but she also has a unique connection to the Ag Hall.
She grew up in Cortland, where her father was a regional editor for the Salina Journal. But she shared Monday that before getting that job, the family lived in Bonner Springs for a year, when he worked for The Chieftain.
That year happened to be the year that the Ag Hall, which was federally chartered in 1960 but has never had financial backing from the government, opened its first building.
"I was at the grand opening of the National Agricultural Hall of Fame," she said. "My father was doing the story; my brother is 11 years older than me and says 'You were there, I was 13, I remember' … and ironically, I am now presiding over its 50th anniversary this year."
Gabel described her work, along with the board of directors and volunteers, as "resurrecting" the Ag Hall. Though she sees the fact that almost all the Ag Hall's antique machinery is still running as proof that the Ag Hall never died.
"We can start almost every tractor or machine in the museum of farming," she said. "So when people say 'Are you still there? Does that even exist? Is it any good any more?' (I say) 'We can start almost every machine that has been donated over the last 50 years; yes, we're still there.'"
The Ag Hall Feb. 2 announced Gabel's hiring along with the return of several annual events and regular hours Wednesdays through Sundays, mid-April through October.
Upon announcing that the Ag Hall would open for regular hours this season, Gabel said there was a huge response.
"We immediately had the phones ringing off the hook for children's bus tours to come in," she said.
The Ag Hall also has been busy in the last few weeks; it hosted 40 FFA students for a tour, and last week, a two-day corporate event with more than 100 participants learning about crop claims and adjusting. Because the Ag Hall is fairly well used on weekends for weddings and other events, Gabel said she hopes to promote facility usage during the week for corporate events.
"So to say that we're not open is kind of not correct," she said. "We are open, just not for general museum tours until April 18."
That's when the Ag Hall will bring back its Barnyard Babies with extras, including a chamber ribbon cutting and opening of some new exhibit displays.
Gabel said she has plans to revamp the gallery area, with the goal to add a children's museum area. In the Museum of Farming, Bayer CropScience has donated a 15-foot by 15-foot moving art piece. Constructed a year ago for Bayer's "Leave a Better World" exhibit at the Farm Progress Show as recycled art, it is interactive, with sound and water that moves through it.
Continuing the theme of environmentally friendly land use, the area will include displays with a wind generator from the 1920s and soil exhibit with a manure spreader from the turn of the century.
In 2013, Gabel said the Ag Hall welcomed 40,000 visitors, so her hope is to bring in up to 10,000 more visitors this year.
She said she also is encouraged by the response of potential corporate supporters she has contacted. Dairy Farmers of America's announcement it will move to a Village West location was definitely on her radar, she said.
"I'm positive there's opportunities with that," she said. "Every time I reach out and communicate with someone, there's always this amazing response. Anyone that doubts that the center is beloved … is wrong.
"Every time we take people through … they just know, and they want to be a part of it, so I have no doubt that we have a pretty darn bright future out there."