Bonner church plans fundraiser for downtown business owner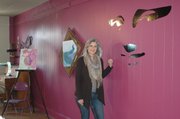 On Dec. 10, after Suzanne Lee Hern's Chevy Blazer skidded on an icy highway exit ramp, colliding with a pole, she was lucky to escape the wreckage alive.
The impact was on the driver's side door; Hern suffered extensive internal injuries, including damage to her spleen, ribs, hips and pelvis. Now friends at Bonner Springs United Methodist Church, which Hern has attended since her childhood, are rallying to help her get back on her feet with a fundraiser next week.
The church's "Spaghetti and Carfetti" fundraiser, set for 5:30 p.m. March 6 at the church, 425 W. Morse Ave., has the goal of raising $6,000 to buy a replacement car for Hern, best known as the owner of Mona Lisa Studio of the Arts in Downtown Bonner.
Linda Edgell, one of the organizers for fundraiser, explained that as a small business owner, Hern had not carried enough car insurance to replace her vehicle. She said a couple of other fundraisers have been held to help with Hern's medical bills and other expenses, but the church knew raising funds for a vehicle would be necessary to help Hern get back to work.
"She has been one extremely strong person to stay motivated, and very grateful for all of the response to this happening, feeling blessed for this miracle," Edgell said. "Now that she is able to walk, she is looking forward to being able to earn an income and get back to independent living, and a big part of that, we know, is transportation."
Hern was only recently given permission to walk. On her Facebook page Feb. 19, the day she was given permission to put weight on her legs and attempt walking, she noted it had been 71 days, three surgeries at two different hospitals and six medications since she last walked.
"I look like a drunken sailor or Bambi ... you choose ... but I'm on two feet!" she wrote. "I will now spend the next chapter thanking everyone for all the prayers and support. God is good!"
A free will donation will be taken for entry to next week's event, which will include a pasta dinner and a silent auction from 6:30 to 8:30 p.m. Anyone interested in donating a silent auction item can contact Cheryl Coleman, 913-721-3047, or the church, 913-422-5349.
Donations are tax deductible, and checks can be written to Bonner Springs UMC, memo Suzanne Hern Vehicle Replacement.