Selling the city: Officials work to ensure Bonner Springs reaps benefits of area growth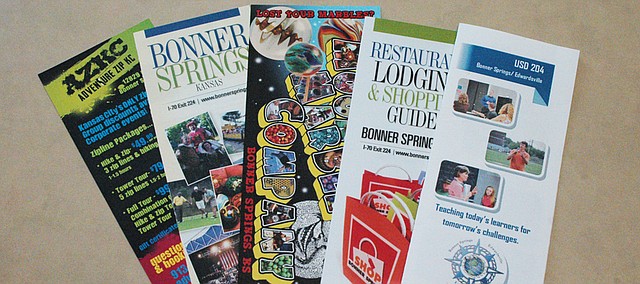 Bonner Springs Mayor Jeff Harrington recently noted sometimes being the "best kept secret" isn't such a good thing.
At a Bonner Springs-Edwardsville Chamber of Commerce event last month, he reviewed some of Bonner Springs's events and developments in 2014, including the two Kansas Teacher of the Year finalists from Bonner Springs schools and Kim Mitchell, Bonner Springs Elementary principal, who was named Principal of the Year for Kansas by a professional education organization.
These were examples of what a great community Bonner Springs is, he said — and why everyone in city should be proud to promote it as a great place to live and do business.
"It shouldn't continue to be a secret anymore," he told the crowd. "The job that we all have is to convey that to our family and friends. Spread the word; tell everyone the education in Bonner Springs is phenomenal."
It's a message the city has tried to communicate for years, but one that's finally beginning to spread as, in addition to the school district's recent successes, growth in the Village West area seems to now be having a greater impact on surrounding communities.
Some residents may prefer that Bonner Springs not get any larger, but there are many reasons why growth is good.
Marcia Harrington, community and economic development director, said this is because commercial property is taxed at a higher rate than residential property, bringing in more property tax revenues, and more retail obviously means more sales tax revenues — all helping the city reduce the tax burden on the residents and provide better services.
"Any time you have new improvements, new construction, that's going to increase your property taxes," Marcia Harrington said. "Economic development is about increasing revenues for your city to help sustain it, along with improving the quality of life and offering different shopping opportunities."
Of course, the city also hopes to expand its residential offerings, because population demographics are needed to attract commercial development. In particular, the city hopes to provide more senior housing options — the council last month passed a resolution of support for a developer who wants to apply for housing tax credits to build some senior villas.
"Senior housing and a sit-down, family restaurant are the two main things that people approach me about, that they would like to see in Bonner Springs," Marcia Harrington said.
But there are some challenges to finding residential development-friendly land in the city.
"The desire from developers is to locate in an area where you already have the infrastructure, and we're running out of space in our older areas of the city to put developments," Marcia Harrington said.
The city may need to improve some of its streets and other infrastructure north of Metropolitan Avenue to attract more senior housing and other residential developments, she said.
Harrington makes efforts to attract development day-in and day-out, marketing the city in various ways.
"My real preference is to meet face to face with potential developers and commercial brokers," she said.
Since the city is interested in retail development to increase sales tax revenues and provide more variety for residents to shop and eat without having to go outside the city, Harrington attends the International Council of Shopping Centers' conference for national retailers in Las Vegas each year to network and promote the city.
She also networks locally, taking part in the Kansas City Kansas Chamber of Commerce and Wyandotte County Economic Development Council, and takes calls from people looking to locate in the area.
Like other metro-area cities, Bonner Springs offers a full list of development incentives to entice developers. While some don't like giving "handouts" such as tax abatements or reduced fees to developers, Marcia Harrington says it is a necessary to attract things like the proposed $64 million Westgate Project at 118th Street and State Avenue.
"With incentives — it's an investment in our future," she said. "Once those improvements, once the development is here, it's here forever, unless some act of God takes it away, and we have more housing choices, more shopping choices, more service related businesses for our residents."
One challenge has been the reconstruction of the Kansas Highway 7 and Interstate 70 interchange. But now that most of the work on K-7 is complete, and future phases remain unfunded, promoting that area's property — particularly two lots remaining in Bonner Springs Pointe development and the adjoining 100 acres on the north — is getting easier.
"During construction, it was like nobody was calling — I mean nobody," Marcia Harrington said. "Everything just came to a halt. But it has prepared that area now to look more development-ready, and I'll be working with those property owners to help market that property."
Neighboring the Village West area also has helped raise the city's profile to potential developers.
"I feel like we're very fortunate to be as close to the Legends and Village West area as we are, because it has opened our doors to new developers, being in such close proximity," Marcia Harrington said. "If everything wasn't in place out at Village West that is currently there, we wouldn't have the Westgate project."
But being a Village West neighbor also presents challenges.
"The downside is a lot of the first-tier, national retailers want to be out there, where the synergy is, where the 10 million visitors a year are, so we have a harder time attracting retailers here, especially first tier," Marcia Harrington said.
However, for a relatively small city, Bonner Springs has seven attractions of its own — from the newest, Adventure Zip KC, to Moon Marble Company, to Cricket Wireless Amphitheatre and the Kansas City Renaissance Festival. Together they bring in more than 400,000 visitors a year, a selling point for the city.
To ensure visitors keep coming, Bonner Springs Convention and Tourism does a lot of marketing of the city, both for those attractions and for city-sponsored events like Tiblow Days or the Festival of the Arts, using funds the city receives from hotel guest taxes, which by law can only be used for tourism promotion.
In 2014, tourism marketing efforts to promote local attractions included:
• 23 ads placed in 15 publications with 4.1 million circulation, plus online advertising
• Participation in Kansas Travel and Tourism, Tour Kansas, I-70 Association and Kansas City Regional Destination Alliance marketing efforts
• I-70 digital billboard
• Mailing 5,077 tourism packets, which was up 167 more than in 2013
• New retractable banners for events and attractions
The city isn't the only one doing its best to promote the area; Bonner Springs-Edwardsville USD 204 is making increased efforts to promote itself, as Jeff Harrington suggested.
Last fall, the school district attempted to have an informational session for area real estate agents.
"We brought the realtors in, and showed them around, showed them how our students and teachers are working to better themselves each day," Superintendent Dan Brungardt said. "The idea was to give the realtors a little insight, in hopes that they could then share that with folks looking to move into the area."
The turnout was lower than expected, but Brungardt said it was a good first step, and he said the district will try to hold another event in the future.
As the mayor alluded to, the district had particularly large amount of accomplishments to brag about this year, with its Kansas Teacher of the Year finalists. Brungardt said such awards can only help the district's promotion efforts.
"Teachers are our biggest assets, they are what makes our district so successful," Brungardt said. "So any chance we get to shed some light on that, is a chance we want to take full advantage of."