Face to Face: Bonner Springs pastor Randy Beemon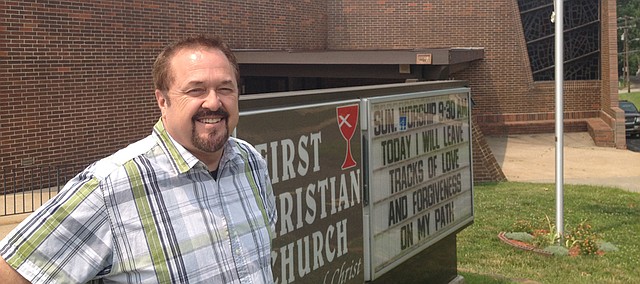 Name: Randy Beemon
Birthplace: Independence, Kan.
Family: Wife, Linda; four grown children; one grandchild
Occupation: New lead pastor, First Christian Church of Bonner Springs
Dream job as a child: Attorney
"I love law and love the political world," he said.
Beemon got his undergraduate in political science and began taking law classes, but a summer interning at a church changed his course.
"I just fell in love with it and heard God say, 'I want you to preach for a verdict instead of going to trial for a verdict,'" Beemon said.
Hobbies: Cheering for Kansas University basketball, reading and outdoor activities like boating, camping and backpacking.
Digging deeper: Beemon needs almost no introduction, as he isn't new to the community. He served as pastor at Edwardsville Christian Church before moving to the First Christian Church of Lawrence.
He moved to the Antioch Christian Church in Vienna, Va., almost by force when he was diagnosed with stage 4 cancer.
"They gave me, like, 30 days to live," he said. "So I moved to Washington, D.C., where the National Institutes of Health is, and started treatment in a program, and now I'm alive."
Beemon has been proud of his community involvement at each church he has led.
"That's my passion, I love being out in the community. I think that's critical — if you don't get involved in the community, you're not doing a service to anybody."
In Edwardsville, he served as the Police Department chaplain, served on several community boards including Vaughn-Trent Community Services, and helped start a youth center. In Lawrence, he helped with the food kitchen, served as chaplain for the sheriff and police departments and character coach for the KU basketball team and sat on the Homeless Task Force.
Beemon said he was happy to return to the area both to be closer to his new grandchild, who lives in Eudora, and because he has enjoyed seeing the growth in Wyandotte County, having been a big supporter of the Village West development — he even performed the prayer when the Kansas Senate voted on the bill that would allow the development of the Kansas Speedway.
"I love this area; I'm glad to be back home," he said. "… I've been free of cancer now for about four years, and so I'm at a place where I wanted to get back home."