Ag Hall's Tractor Daze to include hall of fame inductions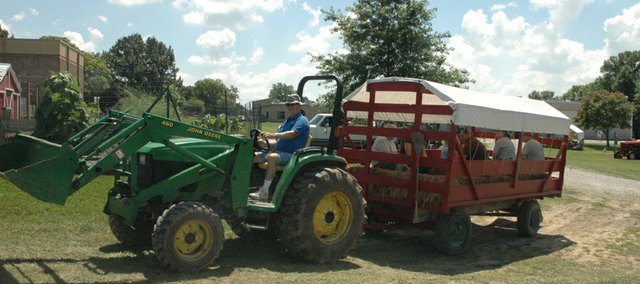 The National Agricultural Center and Hall of Fame, 630 N. 126th St., Bonner Springs, will conduct its annual "Tractor Daze and Touch a Truck" event from 10 a.m. until 4 p.m. July 11.
Tractor Daze and Touch a Truck is a hands-on learning experience for families to explore all types of farming equipment as well as a variety of large trucks, heavy machinery, recreational vehicles, emergency vehicles and antique military equipment.
There will be many "fun" activities for children including face painting, farm animals, miniature train and fire wagon rides, hayrides, antique and classic tractor show, and garden tractor pull and kiddie pedal pull contests. The Ag Fest area features interactive living history demos plus farming and gardening demos, displays, activities and games. Smokey and the Bandit, the Snowman's semi , and Buford T. Justice and his police car will also be there.
One of the highlights of the day, and part of the facility's celebration of its 50th anniversary, will be the induction of two persons into the Hall of Fame.
"Tractor Daze and Touch-a-Truck is designed to be a fun community event for families," Dawn J. Gabel, director of operations and development, said. "Traditionally, we have approximately 2,800 attendees and this year we are preparing for many more from across the entire metro area and surrounding counties because of the 50th anniversary.
"The purpose of the event is to help consumers learn about farming, where their food comes from and how it is produced," she said. "Attendees range from farmers and ranchers to tractor enthusiasts, urbanites and rural folks of all ages."
The Hall of Fame Induction will take place at 11 a.m., followed by the Parade of Power at noon. The Garden Tractor Pull is set for 1 p.m., while the Kiddie Pedal Pulls will take place at 1 and 2:30 p.m.