Basehor, Bonner area deals with aftermath of Monday's storm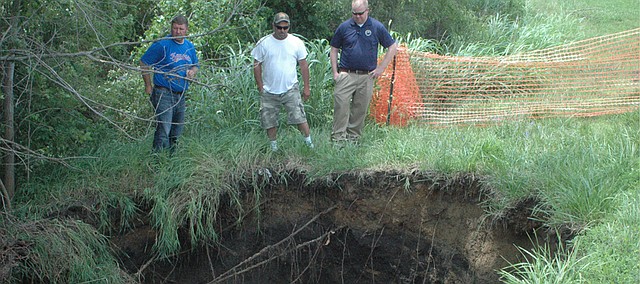 While no tornadoes touched down in the Basehor and Bonner Springs areas during Monday evening's severe thunderstorms, the storms left their mark on the area in other ways.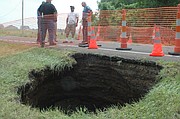 "Just about everywhere you looked, there was pooling water," said Lloyd Martley, Basehor's police chief and city administrator. "It was unbelievable we got that much water that quickly."
In fact, the Davis Weather Station in Basehor recorded that the city received 4.12 inches of rain within one hour and 40 minutes. And while flash flooding was reported in multiple areas of the city, the most lasting effects were seen just east of 159th and Parallel Road, where water flooding through a drainage ditch leading to Hog Creek overwhelmed the existing drainage pipe under the road, creating sinkholes on either side of the road up to 10 feet deep, forcing the city to close the road for the time being.
"The integrity of the surface below the road has been compromised because there is still water washing it out around the existing pipe," Martley said Tuesday as city officials inspected the area.
Martley said the city wants to replace the existing pipe with a larger pipe, but it is expected to take two weeks for a larger pipe to arrive and probably a week for the new pipe to be installed. So city officials Tuesday were trying to determine if the ground was stable enough to open to at least one lane of traffic, or if the road would need to remain closed.
At 4 p.m. Tuesday, the city notified residents through its e-news service that the road would remain closed for about two weeks.
On the Basehor Sentinel Facebook page, readers posted images of flooding at 153rd and Pine Ridge and 155th and Crestwood Drive, as well as a car under water. Martley said flooding also occurred at 158th and Leavenworth Road, 158th and Honey Creek Road, and said several vehicles had to be towed out of high water.
"In 20 years living out here, I've never seen anything like this," he said.
In Bonner Springs, Kansas Highway 32 was temporarily closed near Papa Bob's Bar-B-Que, 11610 Kaw Drive, because of water on the road.
Edwardsville Fire Chief Tim Whitham said that storm damage in Edwardsville was minimal and mostly involved storage sheds damaged or destroyed from the wind, as well as trees and large branches downed in the Edwardsville Village mobile home park.
Branches and debris, along with gravel washed from private drives, were in various roadways around the city. Fourth, ninth and 98th streets were flooded, and the fire department shut down the roadways to prevent vehicles from driving through the high water.