On the rise: Climbing wall helps boost pool attendance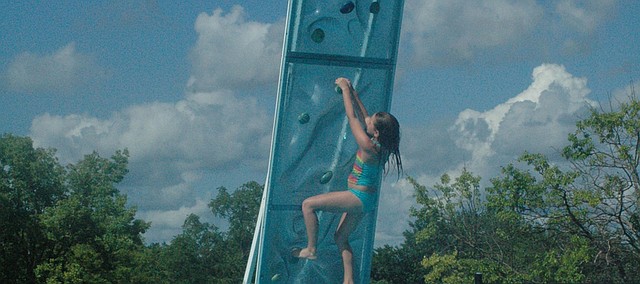 The summer heat is now in full force, and with the pool season nearly over, Bonner Springs Parks and Recreation officials say a new element at the Bonner Springs Aquatic Center has proven popular.
Skip Dobbs, director of parks and recreation, said that 10 years after a special sales tax funded major improvements to the pool, the city was looking to add something new to help reverse some decreasing attendance.
"We're trying to regenerate interest in the pool," he said.
The original plan was to add a new slide to the current slide tower for $90,000, but the expense turned out to be more than expected due to installation costs not included in the initial estimate. So in April, the city turned to plan B: a climbing wall installed before the pool opened this year, and a "drop slide" that will be installed in the fall for next year.
"We found some other activities or feature that turned out to be better and more exciting than the one slide we were going to put in," Dobbs said.
The $13,000, 16-foot climbing wall was easily installed before the pool's opening in the diving well. It is a somewhat unique feature, as the only other climbing walls staff found were at the pools in Eudora and De Soto.
The only problem was because the wall shares space with the diving boards, they cannot be open at the same time. But switching between the two every hour or so seems to be working so far.
"Ten to 12 kids line up to use it whenever it opens up, and they come up to us when it isn't open saying they are ready to use it," Dobbs said.
The $35,000 "drop" slide will be installed this fall because installation was more involved. The slide will be about 12 feet tall and extend out 13 feet over the water, dropping the user about four feet above the water.
Additionally, a small children's slide will be installed in the zero-depth area in the fall, and item that was budgeted with other funds.
Attendance at the pool averaged 532 patrons per day in 2010, but that number fell to 300 patrons a day in 2014. Pool memberships in 2010 were 478, but that dropped to 365 last year.
Dobbs said attendance numbers so far this year have been up slightly but similar to last year — both years saw a cool start to swimming season, and this year rain has been a big factor.
Pool attendance as of July 6 was up overall by 931 visitors for a total of 10,410 compared to attendance as of July 6 in 2014. Day passes were up by more than 2,000, though family season pass and 10-punch pass user attendance has fallen.
With $42,000 remaining of the funds originally budgeted for a slide, the Bonner Springs City Council last week approved a few uses as recommended by the Parks and Recreation Advisory Board totaling $32,150, many of them benefiting the pool, including repairing a pool leak, purchasing a 500-gallon chlorine tank and replacing broken ladder steps. The city also will replace the large umbrellas at the pool that have torn and purchase a basketball goal.
Aside from the pool, the money also will be used for electrical repairs in the Community Center lobby; purchasing tables, chairs, racks for Community Center and South Park; purchasing bleachers for the Community Center gym; building dugout roofs for baseball field No. 1 at Lions Park; and purchasing a spreader for seed and fertilizer.