After flash flood, Basehor residents seek answers
City says drainage system did not fail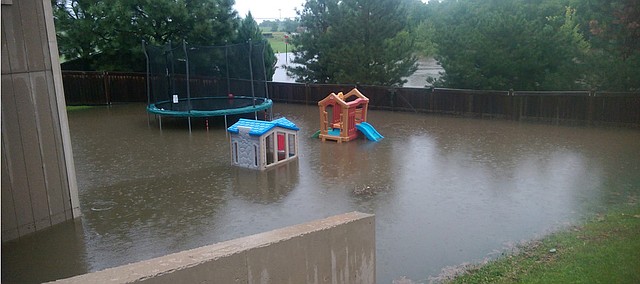 Stephenie and Josh Sudduth were in the basement with their four children during severe storms on July 6 when they noticed water on the floor.
The rain was so heavy that Josh Sudduth couldn't see the back yard through the walk-out basement's windows, so he ventured upstairs to take a look.
"When I looked out, it was like overlooking a lake," he said.
In the end, the Basehor family shut the power off and huddled on the basement stairs as 18 inches of water entered their finished basement, causing damage not covered by their homeowner's insurance. Their home was the closest to the flash flooding that occurred at 159th and Parallel streets, where water overpowered an 84-inch pipe under the road and spilled out of the waterway, basically creating a small lake at the intersection and causing a massive sinkhole.
And like several others who had water damage but live in an area that isn't usually considered a flood risk, they find themselves asking if the city should have done more to prevent the flooding.
"Was that the correct size pipe, and if there was a failure, are there requirements to inspect the pipes every so often?" Josh Sudduth said. "And if it was inspected when they were supposed to, would they have noticed a weak spot in the pipe?"
But city officials say that the more than 4 inches that dropped on the city over a one-hour-and-40-minute time period was a catastrophic event that no normal drainage system could handle.
Lloyd Martley, city administrator and police chief, and Gene Myracle, superintendent, say the city had about a dozen calls from residents concerned about the flooding, but the city has done its due diligence in monitoring stormwater drainage and requiring incoming developments to provide adequate drainage measures.
Myracle said all of the major developments since 1999 have been constructed to properly retain and then drain water for 25- and 50-year flood events.
"The system did not fail; it did what it was supposed to do, there was just too much rain in too little time," Martley added. "This was not an engineering-flawed design … this was a 25-year event. There's nothing else we could have done to prevent it."
Martley said the flash floods are as much an act of God as a tornado, and the damage was not something the city could control.
Myracle said he and his staff check storm drainage structures and culverts like the one at 159th and Parallel on a regular basis, so they are confident there were no issues with the pipe.
Studying the collapsed pipe that has now been removed from the street and comparing it to the new pipe waiting to go in, the Sudduths thought the new pipe was larger and city had perhaps recognized inadequate size and ordered a larger pipe as a replacement.
But Myracle says the new pipe is the same 84-inch width as the former pipe, because the city cannot change the size of pipe approved by engineers for managing water flow. He said a larger pipe allowing more water flow could cause flooding downstream in Hog Creek.
The Sudduths also said they have been disappointed with the city's response. They said Myracle looked at the property damage and helped haul off the wet insulation and drywall they had to remove to prevent mold, but they feel like they got a less than friendly response from other city staff.
Stephenie Sudduth said she got a better response when water entered her former home in Olathe.
"That city was on it — it was just completely different treatment than what we're getting now," she said. "We didn't even get, 'We're sorry this happened to you; we're fixing it.'"
But Martley disagreed, saying though the city could not have prevented the flash flooding, city staff have done all they can to help residents who experienced flood damage.
"Gene and his staff went above and beyond with the residents who had issues," he said.
This is not the first time the Sudduths have disagreed with the city. A few years ago, debris entered a sewer pipe and caused sewage to back up into their basement drain. The Sudduths took their complaints to the City Council but say they didn't get any results, and while they hired a lawyer to work on their behalf, it became too expensive.
Now they are trying to figure out how to afford the home repairs and replace all of the basement furniture that was lost. Two bedrooms were in the basement, so one of their sons is sleeping on the couch while another is staying with friends.
While they added insurance coverage for sewer damage following their previous experience, they say they have been told they can't get flood insurance because they are not in a high-risk area. The National Flood Insurance Program website, floodsmart.gov, lists the Sudduth's home as a low-to-moderate risk property. They said they wanted to see if the city could at least get FEMA assistance for residents who experienced flash flood damage, but they feel city staff is brushing them off.
"It's just frustrating because we're not getting any answers; they just won't talk to us about it," Stephenie Sudduth said.
Work continues on the culvert near the Sudduth's home, but continued rains have delayed the project and Parallel Street remains closed. Myracle said replacing the entire repair is estimated to cost $75,000.
Another culvert has since collapsed on the city's border with Wyandotte County on 142nd Street just north of State Avenue. The road is closed while the city and county work together to determine repairs.