USD

204 summer meal program now in Edwardsville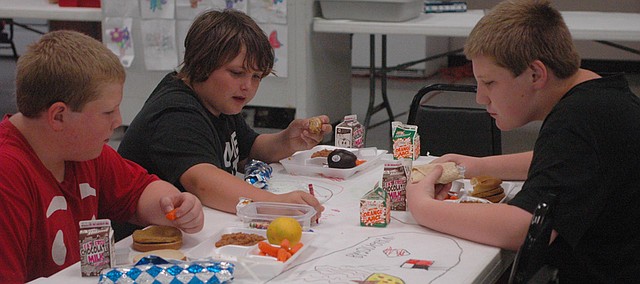 The last time Bonner Springs-Edwardsville USD 204 tried to offer its free summer meal program through Edwardsville Elementary School, there were some barriers to its success.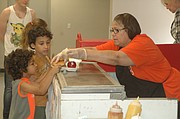 Specifically, the railroad tracks and Kansas Highway 32, which the 400-some district students living south of K-32 in Edwardsville would have had to cross to walk to Edwardsville Elementary.
"There were days that only two people came," Tina Trafton, food services coordinator for the district, said of the 2011 program.
So for the last three years, the Braves Summer Meals Program, aimed at helping children continue to receive healthy meals while school is out, has been offered at Bonner Springs Elementary and Bonner Springs High schools. But this year, with the help of the city of Edwardsville, residents in the more heavily populated southern portion of the city will have an easy walk to get to a free lunch.
USD 204 will once again provide free summer meals for everyone under age 18 through district's partnership with the United States Department of Agriculture at the Edwardsville Community Center as well as BSE.
This summer, Monday through Friday beginning this week and ending July 31, lunch will be offered at both locations from 11 a.m. to 1 p.m. Breakfast also will be offered from 7:45 to 8:45 a.m., but only at BSE.
While children's meals are free, adult meals also are available for $3.40. There are no income or registration requirements.
Eric Hansen, district business and human resources director, said the transportation director confirmed that there were more than 400 students that lived south of K-32 in Edwardsville.
"That's a pretty good chunk of kids that are in the age group that would be coming here, and that doesn't include kids that are aged 4 or under," he said.
The high school also wasn't proving an effective location, even with summer school classes in session last summer.
"The high school-aged kids, they have the ability to get up and go when they're done," said Cindy Rose, who works with Opaa, the district's food services provider. "And they don't stop; they weren't stopping to eat."
However, some students at the high school for sports programs are receiving free meals, because 100 lunches each day are sent there.
Peter Yazbec, Edwardsville public works director, said the idea of allowing the district to use the community center for the meal program met with resounding support from the city council. As soon as the district approached the city about using the Community Center nearly three months ago, they blocked off the lunch period so the facility couldn't be rented at that time on weekdays.
With a limited kitchen at the community center, the food is prepared at Edwardsville Elementary and hauled to the community center, where hot boxes and a spare cooler help keep certain foods at the right temperature.
"We have two people who stay behind at the school, prepping for tomorrow and if we need more here today, then they call and we run it," Rose said.
An informational open house for the program at Edwardsville Community Center was held May 14, which was the same night as Bonner Springs High School graduation, but still about 100 people attended. Fliers also have been posted in several areas around Edwardsville, and signs are posted on the doors of the community center.
On Monday, the first day of the program, 50 people had lunch at the community center, only one of them an adult.
"I was so excited for 50 on the first day," Rose said.
Comparatively, on Monday, 199 students had lunch at BSE, though up to 120 of the children are part of the Bonner Springs Parks and Recreation Summer Day Camp. BSE also will have children in the building for summer school.
So efforts continue to spread awareness of the Edwardsville location and encourage children to continue eating there throughout the summer. Opaa provides coloring pictures to each of the young diners, and if they bring them back the next day, they get a prize.
Yazbec said the city staff also is working on ways to provide additional activities.
"We've talked about programs with the kids that are here," he said. "We talked to our fire department about having them come and have a week of the firefighters can eat lunch with them, or they can give a tour or have touch-a-truck."
Yazbec said they have had a similar discussion with the police department, and the city's parks and recreation coordinator hopes to organize some programs during the lunch time. The city also has been in touch with the Kansas City Kansas Public Library's mobile library to try to organize some visits.
For more information, contact USD 204 Food Service at 913-667-8158.