Face to Face: Linwood business owner Kim Miller-Tallman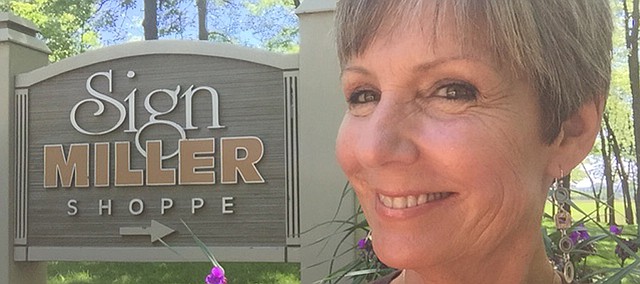 Name: Kim Miller-Tallman
Birthplace: San Diego, Calif. She moved to Kansas in high school.
Family: Husband, Dan Tallman; children Kori Miller, Kirk Miller, Katie (Tallman) Kraemer and Kelsey Tallman.
Occupation: Owner, Miller Sign Shoppe
Dream job as a child: Artist and archeologist
"I loved digging in dirt and looking for hidden treasures, but an art career won out," Miller-Tallman said.
After going to college for a couple of years, she says she decided to "re-group" and took a job at Lee Wards, a hobby/craft store in Shawnee, doing their displays. Part of that job required her to do their interior signage.
"This era (1976) was pre-Google and pre-computers, so everything I needed to learn was by visiting 'real' sign shops and asking questions of the local sign supply houses," she said. "I fell in love with sign painting."
Hobbies: Miller-Tallman said she loves Zumba and yoga to "balance my mind and body."
"The playing in dirt and mud passion still prevails as well," she said. "I enjoy the zen of gardening and throwing pottery."
Digging deeper: Miller Sign Shoppe earned the Basehor Chamber of Commerce's Business of the Month award this month, and it has come a long way from Miller-Tallman realizing her love for painting signs.
She said she learned much of her craft from John "Tiny" McTaggart at his business in Edwardsville.
"Tiny Signs taught me the correct way to hold a brush and the different types of paint to use," she said. "He and others taught me how to practice painting letters correctly. Being young and totally clueless that I should be afraid, I quit my job, and decided I could support myself painting banners and windows."
Miller-Tallman says it took a good five years of daily practice before she felt she could call herself a sign painter, and then computer-generated sign making equipment became available.
Her business was in Basehor from 1984 to 1996, when she was able to move it to the same 10 acres she lived on just east of Linwood.
"Creating logos and signs is much more than a job," she said. "Besides being able to exercise my artistic side, I am fortunate to be able to work with my son and daughter and four fabulous co-workers (friends) who all are area residents and have been with Miller Sign from 7 to 29 years. This is truly a 'family' business."
Miller-Tallman said another aspect she loves is working with highly energized owners of new businesses, giving them guidance with their image.
"We are so blessed to be in a field that allows us to be creative, and that is channeled toward helping others succeed with their dreams," she said. "Asking questions, finding out who they are and what they want the public to know about them, and then creating that look with visually pleasing signs is very satisfying, especially when we see them achieve their dream of growing a successful business."