Royals legend helps Gold Glove Week thrive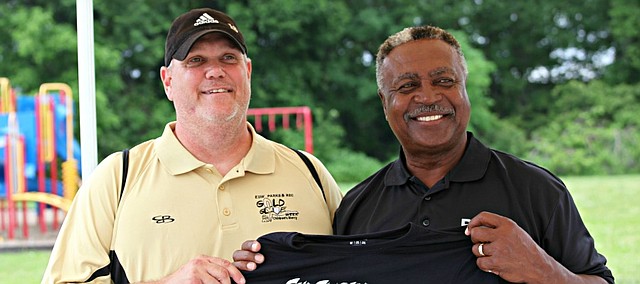 Edwardsville — Frank White is no stranger to gold. He did, after all, win eight Gold Gloves during his days as the starting second baseman for the Kansas City Royals.
But that color took on a completely different meaning on Friday afternoon at Edwardsville City Park, where White donated his time to a charity autograph signing.
It was an exciting opportunity for fans of all ages to meet with with a local baseball legend and donate to a good cause at the same time. The event was part of the Parks and Recreation Department's Gold Glove Week, which is a fundraiser aimed at rounding up money to fight childhood cancer, specifically through Children's Mercy Hospital.
"The biggest thing is that you want to be able to give back to the community," White said. "You want to make the experience of baseball as much fun for kids as possible and, in the process, help other kids in need. If you combine those two things, sports and charity, they tend to go together, and it's a lot of fun for players to get out and do things like this. ... I think the No. 1 factor is that it's helping kids. I think kids who are sick and dealing with traumatic illnesses, I think it really helps them to know that people out here do care."
White signed autographs from noon to 1:30 p.m., scribing his signature on balls, photos, trading cards, t-shirts and other items. The most popular item seemed to be special baseballs with the official Gold Glove Week logo on them. The most interesting request of the day came when a man walked up to the autograph table with a picture of White holding him as a baby.
"Everybody has a different story," White said with a smile. "They remember where they were at certain times, and it may be an experience they had with me when they were a kid. … It's kind of neat to have those experiences and have people come and share them with you."
While White certainly did his part to make the fundraiser a success, so many others were involved as well. Parks and Rec lead Mike Martin said Friday that the week-long initiative had raised right around $5,000. Other fundraising efforts included a silent auction for autographed items and the sale of special Gold Glove Week t-shirts. The primary sponsor for the event was Homestead Motors, led by owner Mike Reid.
"When [Martin] approached me and said that 100 percent of the proceeds were going to Children's Mercy, we were all in," Reid said. "We get approached by tons of people on a daily basis for donations, and obviously this is close to home for us, in our own community. It's just an awesome event that we wanted to be a part of."
The City of Edwardsville will officially present the donation to Children's Mercy during the Kansas City T-Bones game at Mid-America Ballpark on Thursday, July 9. Children's Mercy has seven locations throughout the KC Metro area and is nationally recognized for its high level of pediatric care.
"It's wonderful," said Megan Stock, who is the Manager of Philanthropic Community Engagement and Events at Children's Mercy. "We are a non-profit hospital, so we really rely on community support to be able to treat every child, regardless of their ability to pay.
"When it's kids helping kids, that's really cool. That's what Mike and this group has done — they've introduced a whole new generation of givers to Children's Mercy, and they've shown the benefits of helping your community and coming together."
Friday's festivities also included a skills competition, a cookout and a speech from former professional player Bill Severns, who was a teammate of current Royals manager Ned Yost during his time with the Milwaukee Brewers organization. Martin said he expects the event to continue to gain traction each year and wants to find as many avenues as possible to reach out and get the community involved.
"This is going to grow exponentially," Martin said. "It's been wonderful, even bigger than I expected. People around here are excited. They're starving for something to be done that's above and beyond. This is something special."
---
Jon Poorman is the sports editor at The Chieftain and The Sentinel and The Dispatch. Follow him on Twitter at @JonPoorman for all of the latest community sports news.