Former Shawnee music teacher charged with molestation missing from house arrest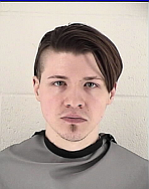 Overland Park — Authorities say a former music instructor at Funky Munky Music in Shawnee charged with child molestation has removed his ankle bracelet and fled house arrest.
The Overland Park police department says 28-year-old Sean Dow went missing early Saturday morning from a relative's Overland Park home. Officer Gary Mason says Dow was staying there while the Johnson County Sheriff's Office monitored him with the ankle bracelet.
Police say Dow left a note for his relatives telling them that he was leaving. As of Tuesday morning, Dow had still not been located. Mason said Dow's family has been cooperating with the investigation and are not believed to be involved in his disappearance.
Dow was charged in April with three counts of aggravated indecent liberties with a child under the age of 14. The incidents reportedly occurred at Funky Munky Music in Shawnee. The families of the children have been notified of his disappearance.
Dow's attorney didn't immediately return a phone call from The Associated Press.
The Overland Park Police Department asks that anyone with information on Dow's whereabouts call police at 913-895-6300.