Bonner Springs' Hitchcock reflects on state title
The Bonner Springs High School wrestlers finished 18th as a team at the KSHSAA Class 4A state championships in Salina on Saturday, led by gold medal winner Tanner Hitchcock.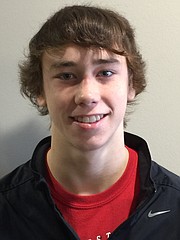 Hitchcock, a sophomore who ended his second prep season with a 35-4 record, won the 113-pound state title with a 4-2 overtime victory against Augusta senior Jake Goldenstein.
"I think my weight class and all of the weight classes were pretty tough," Hitchcock said. "There were kids in every weight class that could do damage and knock you out of the tournament.
"The regional tournament and other tournaments, like the Bobcat Invitational, helped me prepare for state because they were tough tournaments."
Hitchcock said he tried not to worry too much heading into the final match. Instead, he focused on what he needed to do to come out victorious, and the strategy worked.
"I was just overjoyed and really excited and proud of myself," Hitchcock said. "I was really thankful for all the coaches, and all of my supporters in my family and in the team and in the community."
With a new gold medal added to his collection, Hithcock said he is even more inspired to continue working toward a higher standard of success on the mat.
"I just have to motivate myself mentally to keep going and hopefully win a state title my junior and senior years," he said. "That's what's motivating me to keep getting better."
Senior D.J. Ballard, junior Kolbe Seaton and sophomore Sean Singleton also won matches for the Braves in Salina. Baldwin won the Class 4A team title with a score of 113 points. Chanute (110) and Holton (87) rounded out the top three.
---
Jon Poorman is the sports editor at The Chieftain. Follow him on Twitter at @JonPoorman for all of the latest community sports news.