Organization Orientation: Bonner Springs-Edwardsville Kiwanis Club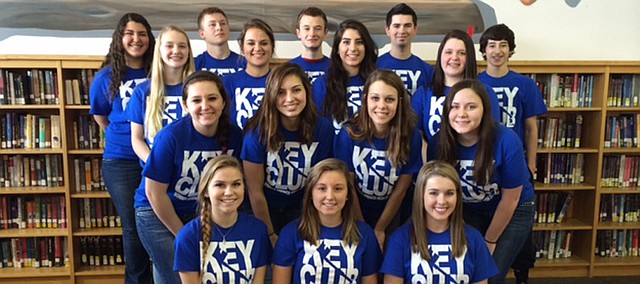 Club/organization name: Bonner Springs-Edwardsville Kiwanis Club
Established: Kiwanis International celebrated its 100th anniversary in January this year. The local club is celebrating its 44th year. It was chartered April 15, 1971, as the Edwardsville Kiwanis Club; the club added "Bonner Springs" to its name last year because it serves both communities.
How it was started: Allen S. Browne and Joseph C. Prance of Detroit, Mich., founded the group in 1914 to bring businessmen together to form friendships and to foster business alliances. At first, it was called the Supreme Lodge Benevolent Order Brothers, but early members weren't fond of the name. So Detroit's official historian suggested the American Indian phrase "NunKee-wan-is," which was thought to mean "We trade" but was later translated to "We have a good time." The state of Michigan's corporate charter for the club was dated Jan. 21, 1915, so this is celebrated as the club's "birthdate."
Of the small group of local businessmen who founded the local Kiwanis club early in 1971, two are still active members: Norm Steffey of Shawnee and Woody Berry of Edwardsville.
Number of members: There are more than 8,400 clubs in 96 nations, totaling about 606,608 active members. The Bonner Springs-Edwardsville club has 24 members.
Mission statement or motto: The original motto was "We Build," but in 2005, a new motto was adopted, "Serving the Children of the World."
Interesting fact about the group: The local club has a mascot of sorts, a stuffed E.T. doll, which goes along with the club whenever they are doing service. The club chose the alien because they say the initials "stand for the Extra Time, Extra Talents and Extra Treasures (for your soul) that each member needs to bring out to serve and improve the community, one child at a time."
Who can join: Any adult who lives or works in the area and is ready to volunteer their time to better the community, enjoy fellowship and informative meetings each week.
Membership dues: $90 annually.
Meeting frequency: 7:30 a.m. Thursdays at JAMZ Bar and Grill, 11657 Kaw Drive.
People/things it benefits: Kiwanis Clubs sponsor 150,000 service projects and contribute six million hours of service. The current Kiwanis International project is to raise $110 million and, working with UNICEF, eliminate Maternal and Neonatal Tetanus, a deadly disease that takes the lives of about 60,000 babies and a significant number of women each year.
The local club sponsors scholarships, donates dictionaries to third graders, delivers magazines to care homes, sponsors the Mayor's Prayer Breakfast during Edwardsville Days and aids Vaughn-Trent Community Services. They helped start a Key Club, a Kiwanis Service Leadership Program, for service-minded students at Bonner Springs High School. They started a Bring Up Grades Program that rewards students for improving and maintaining their grades, and a Terrific Kids Program, which is a student recognition program that promotes character development, self-esteem and perseverance, both at Edwardsville Elementary School. The local club is presently in process of starting a Builders Club at Clark Middle School, which provides students with opportunities to develop leadership, improve self-esteem, increase civic engagement and learn life skills through service during this "in-between stage" of life.
Biggest fundraisers: The Edwardsville-Bonner Springs Kiwanis Club will hold its annual fund-raising pancake breakfast from 7 to 10:30 a.m. Saturday at the Bonner Springs High School cafeteria. All funds raised will be used for club's scholarship program for local students. This year the breakfast will be supported by free-will donations. In addition the club will be conducting a fund-raising drawing during the event.

Contact information: Ian Sangster, club secretary, isangster@msn.com, or find the club online on Facebook.