2015 Candidate questionnaire: Bob Reeves, Bonner Springs City Council Ward 3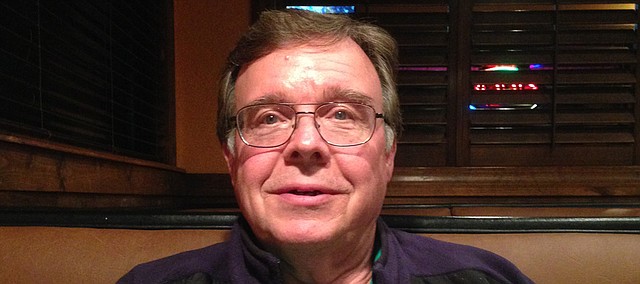 Bob Reeves is seeking re-election to his Ward 3 Bonner Springs City Council seat, running against challenger Jordan Mackey. The following are Reeves's responses to The Chieftain's candidate questionnaire.
Biographical information
Age: 67
Occupation: Teacher
Family: Married with two grown children and six grandchildren
Years lived in the city: 39
Previous political experience: 8 yrs. City Council
Other community service: Finance director of local Community of Christ Church, Rotary Club member, City Council liaison to Bonner Springs City Cemetery and Bonner Beautiful.
Campaign website (if applicable): N/A
What made you decide to run for office?
I have enjoyed being part of the city and do my best to represent my constituents by making decisions that are best for the future of Bonner Springs.
What special qualifications would you bring to this office?
I have 8 years experience as a city council member. I have lived in Bonner Springs for 39 years. My wife and I have raised our family here, and we are planning to stay here. We have gotten to know lots of people during this time and I feel we understand what is important to them.
How do you plan to stay in touch with constituents if you are elected?
I am always open to phone calls and work hard at returning all messages. I visit with many individuals, on a daily basis, during my activities around Bonner.
The council recently gave a resolution of support for the Westgate project, a $64 million mixed-use development at 118th and State Ave. that would require the city to provide many development incentives. Do you support this development? Why or why not?
Yes I do. This is an area that is not developed but is prime to be developed. The city is receiving only a few hundred dollars in revenue from that land. The plan at this time would not cost the city any significant amount. If we do not try to develop this land, and at the same time have some input into how it is developed, we will be missing a huge opportunity. The area around this proposal is already developing and I feel we need to capture a portion of this movement for Bonner Springs.
Funding for future phases of the I-70/K-7 interchange is unknown, but the city will eventually face construction of an interchange at K-7 and Kansas Ave. What should the city do to prepare for this, especially in regard to its street network?
Those proposals are already in place, and we will be developing plans with KDOT in 2018-2020.
As you have been campaigning, what issue have you found is most important for constituents in your ward? How would you address this issue?
City streets seems to be a big concern. The city has an on going street repair and resurfacing program that is a huge part of the budget. That program has been working well for us as one can tell by the number of streets that have been worked on in the last 8 years.
In your own opinion, what are the three most important issues facing the city? If you did not do so in a previous answer, please share how you would address these issues.
1 - The budget. Making sure that we are spending our resources wisely and maintaining what we are responsible for, such as sewer and storm drains, our network of water lines and meters, streets, sidewalks, and walking paths.
2 - Police, Fire, and city staff and employees. We have continually had a very dedicated group of people in all of these areas. I want to keep that tradition going by making sure that the council is taking care of these on our own terms so we can maintain our independence. We have a very good police department, fire department, and we are continually affording them raises as the budget and resources will allow. All our employees are as well paid as any in the state for a city our size. We cannot and should not compete with larger cities in this area at this time.
3 - We need to continue to maintain our relationship with KDOT and make sure our city civic and business needs are meant. Our mayor and city manager have been doing a marvelous job in this area also. It is important that the state operations enhance life in Bonner Springs.