2015 Candidate questionnaire: Chuck Adams, Edwardsville City Council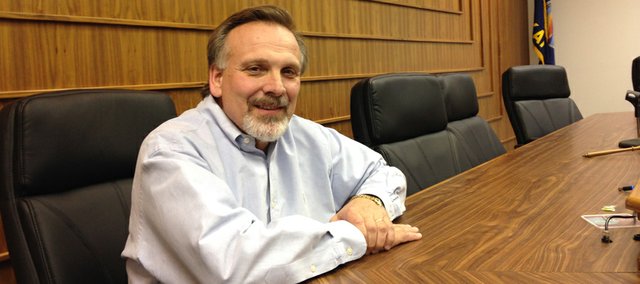 Chuck Adams is running for re-election to one of three at-large positions on the Edwardsville City Council in the April 7 election, with fellow incumbents Craig Crider and Garrett Mellott and challengers Terry Dunn and Chuck Stites.
Biographical information
Age: 57
Occupation: Business owner – Advance Diabetic Shoes
Family: Married to Sue, my high school sweetheart, in 1978. We have a son who is married and has a daughter and son. Our daughter is married and has 5 boys 8 years and under.
Years lived in the city: 13
Previous political experience: Served two terms as City Councilman in Edwardsville beginning in 2007 and have served as the Council President for the past two years.
Other community service: I have a long history in leadership dating back to my two year tenure as vice president of the Spring Hill High School Student Council and then serving as vice president of the Kansas State University's student chapter of the American Society of Interior Design.
Throughout my adult life I have served on a number of church boards and in community based advocacy groups such as the Kansas City Chapter of the Asthma and Allergy Foundation of America and the Kansas Asthma Coalition seeking ways for pharmaceutical companies to team with state funded patient education programs for the improved health of children with asthma.
For the past couple of years I have served as the Kansas Co-Chair of Mid America Regional Council's (MARC) Total Transportation Policy Committee (TTPC). Previous to that I served as the Kansas Co-Chair for MARC's Transit Committee.
Campaign website: www.ChuckAdamsForCouncil.com
What made you decide to run for office?
In 2006 there was tremendous turmoil throughout Edwardsville. It seemed that all the press that we were attracting was negative. The citizens of Edwardsville deserved better than that and I believed that I could make a positive contribution toward bringing stability in leadership, policies and public perception.

I am running for my third term because there is still much more work to be done. We have made great strides in stabilizing the budget and expenditures, providing a work environment that is strong and stable as well as laying the foundations for a strong future. I would like to be a part of the continuation of the momentum. I believe that having a strong city council that is focused on the future of the entire city will help us attract more businesses and families to this diamond in the rough called Edwardsville.
What special qualifications would you bring to this office?
My professional experience with negotiating and managing large contracts has given me an understanding of the importance of attention to detail. Through the years I have owned and operated several business requiring a thorough knowledge of everything from the details of business management to marketing our products and services to targeted audiences. Overarching all my experiences is a love for people. I enjoy earning a client's respect and discovering how I can meet their needs with our products and services that we offer. I have a love for people, a desire for productivity and efficiency coupled with a passion for excellence.
How do you plan to stay in touch with constituents if you are elected?
Over the past 8 years I have sent out 4 newsletters to 1,000 households to keep my constituents up to date on the accomplishments, challenges and projects in the city at my own expense. I will continue that communication into this term as well. My contact information is on all my communications.
I also maintain an emailing list of constituents who want periodic emails about upcoming road projects, important community information and opportunities for feedback on area projects.
The police department has moved into a modular building due to issues with its former space, and City Hall and the fire department also have space or maintenance issues. What steps do you think the city should take to address/plan for the future of its facilities?
The city council and our city manager, Mike Webb, has assembled a first class leadership team. Under Mr. Webb's leadership Chief Mathis and his staff have proven that they are strategic thinkers and planners. We also have a very capable new Fire Chief that is in the process of assessing the needs of the fire and EMT departments and is working on developing a strategy for the future. I will rely on the expertise of the leadership to make their recommendations and then work with the city council to help assess the strategies for addressing future needs as presented by the leadership team and then work to provide the financial resources that makes the best sense with responsible implementation.
What vision do you have for developable land at 110th and I-70? What do you think the city can do to make that happen?
First and foremost I believe in the rights of the landowners to do as they wish with their properties within the bounds of our codes, ordinances and master plan goals and therefore I will not pursue imminent domain to accomplish commercial development. I would like to see more cooperation among the landowners on the north end of town to make that area more attractive to potential developers. A couple of years ago we did a detailed engineering analysis of the best way to design and build sewers on the north end. We have negotiated an agreement with the Unified Government for access to a major sewer trunk line and we are in the process of acquiring the right-of-ways for that development. We are now in a position that we can get more serious about ways that we might fund the initiation of the sewer project. I would like to see our land used wisely for projects that are sustainable for the future and maximizes the value of the land and any further development.
As you have been campaigning, what issue have you found is most important for constituents in the city? How would you address this issue?
The most common comment is always their concerns about the property taxes. I have worked diligently to hold our staff accountable for their expenditures and we have worked to make significant investments in infrastructure, staff and tools while holding the mill levy very stable. It is my passion to always be on the lookout for ways to save money and keep taxation as low as possible without jeopardizing the safety, health and well-being of our citizens. The best way to lower the taxes is to bring new businesses and development to town to help share the expenses. I am open to considering hiring or contracting with someone that can focus on recruiting new businesses and homes to town.
In your own opinion, what are the three most important issues facing the city? If you did not do so in a previous answer, please share how you would address these issues.
No. 1: Unity. I believe for a city to flourish, especially a small city, everyone providing direction and services to the citizens must be pulling in the same direction. In Edwardsville we don't have a "B team" we only have an "A team." Everyone is important to the safety and service of the citizens of the city. Ecclesiastes sums it up well, "A person standing alone can be attacked and defeated, but two can stand back-to-back and conquer. Three are even better, for a triple-braided cord is not easily broken." If our employees, elected officials and appointed committee members work together we can achieve great things.
No. 2: Infrastructure. There are many assets in the city that we must manage for today, tomorrow and for decades to come. This requires very strategic planning and implementation as everything related to infrastructure is expensive. The city has to plan for the long haul and be prepared for the urgent needs of the present. The city must plan to pay for the immediate needs and save for the long term large capital expenses. I also believe that if we want to have business growth on the north end of the city we must invest in a sewer line to serve future development. This will require a solid, well-thought plan for implementation and financing.
No. 3: Safety. Over the past eight years we have invested significantly toward the safety and well-being of the people and buildings in Edwardsville. We have safety departments that are well trained and well equipped. It is my desire that our police, fire and EMS teams are the best trained, highest performing departments in the area. This will require constant training, personal development and recruitment of the highest qualified employees. Our citizens deserve excellence in the services provided to them.