2015 Candidate questionnaire: Chuck Stites, Edwardsville City Council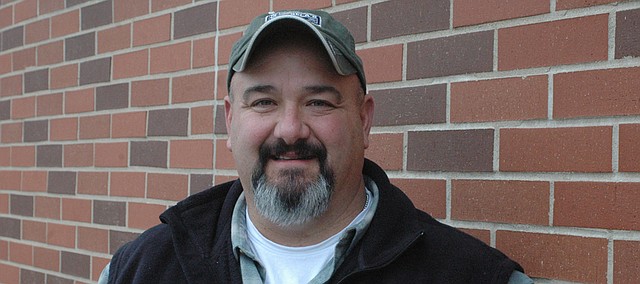 Chuck Stites is seeking election to one of three at-large seats on the Edwardsville City Council, against incumbents Chuck Adams, Craig Crider and Garrett Mellott and fellow challenger Terence "Terry" Dunn. The following are Stites's responses to The Chieftain's candidate questionnaire.
Biographical information
Age: 45
Occupation: Director of Development Schlitterbahn Water Park
Family: Wife of 26 years- Holly Stites, 20 year old Son-Chance Stites
Years lived in the city: 33 years, lifelong Wyandotte County resident
Previous political experience:
Other community service:
· President elect and current board member, Kiwanis club West
· Board member, Business West and State Avenue Development
· Committee member, Department of Justice Task Force for Public Safety Recruitment
· Board member, Wyandotte County Board of Renters Appeal
· Vice Chair, Wyandotte County Libraries
· Board member, Wyandotte County Chamber of Commerce
Campaign website (if applicable): Chuck Stites on Facebook
What made you decide to run for office?
After retiring from the KCKPD, and taking the role of Director of Development at Schlitterbahn Water Park, I have developed the skills and have gained the knowledge necessary to be an asset to the citizens of Edwardsville. I am now able to devote the needed time and resources and I am ready to serve my community and make a positive impact.
What special qualifications would you bring to this office?
I spent 23 years serving the public as a police officer which allowed me to develop my communication skills and my ability to manage people, public safety issues and difficult situations. I was in the community policing unit for seven years where I formed community groups and was responsible for oversight of 20 neighborhood groups. I currently work closely with many commercial and residential developers. In the past two years, I have been directly involved in forming a community improvement district and have brought multiple retail businesses to Kansas City, KS. I have worked with many departments within the Unified Government and I am familiar with County operations.
How do you plan to stay in touch with constituents if you are elected?
Phone, email, newsletters, website and availability to meet in person. I want to explore the possibility of broadcasting city council meetings on UG TV. This would allow citizens who are not able to attend the meetings to still be informed and involved.
The police department has moved into a modular building due to issues with its former space, and City Hall and the fire department also have space or maintenance issues. What steps do you think the city should take to address/plan for the future of its facilities?
When elected, I would need to become more familiar with the particular space and maintenance issues, budget constraints and any other pertinent information in order to make informed recommendations.
What vision do you have for developable land at 110th and I-70? What do you think the city can do to make that happen?
The primary responsibility of the city and the council is to be good stewards of the taxpayers' money. The city should find creative ways to engage public and private partners in a cooperative approach to economic development in Edwardsville. Economic development improves property values, strengthens the tax base, and improves or enhances the quality of life. We need sewers to facilitate growth on the north end. Once sewers and the necessary infrastructure are in place, the possibilities are limitless. It would then be a matter of looking at the options and determining what best fits the needs of the city. This project would be a priority if I am elected.
As you have been campaigning, what issue have you found is most important for constituents? How would you address this issue?
North end development has been mentioned multiple times (see above).
Aging infrastructure, particularly streets. I would need to look at what plans the city currently has in place and look in to possible creative solutions for funding street maintenance and make this project a priority.
In your own opinion, what are the three most important issues facing the city? If you did not do so in a previous answer, please share how you would address these issues.
1-North end development and funding for sewers
2-Addressing the needs of both the police and fire departments
3-Infrastructure to support commercial and residential development (including street construction and maintenance)
Financial stability and wise budgeting are essential to the city's overall health. I believe working with both the private sector and the many public entities to further development and economic growth is key to the city's success in addressing these important issues. Communities where leaders and organizations work together for collective impact are able to make greater positive changes. If the community comes together and works as a team with a focus on economic development, I believe the funding will be in place to support all key strategic objectives.