2015 Candidate questionnaire: Jack Knight, Bonner Springs City Council Ward 1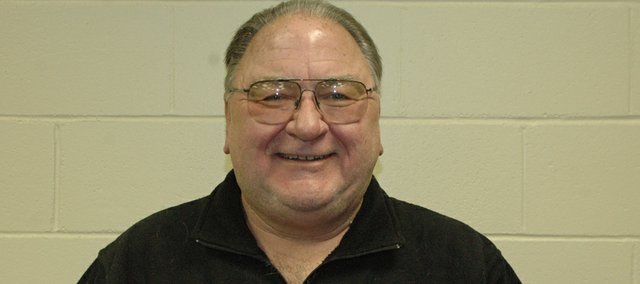 Jack Knight is seeking re-election to his Ward 1 Bonner Springs City Council seat against challenger Mike Thompson. The following are his answers to The Chieftain's candidate questionnaire.
Biographical information
Age: 63
Occupation: Retired from Lucent Technology
Family: Wife, three children and five grandchildren
Years lived in the city: Life-long resident
Previous political experience: Four years representing Ward 1 on City Council
Other community service: Park and Recreation Advisory Board member, supporter of Advocacy First, a local agency providing care for disabled adults
Campaign website (if applicable): N/A
• What made you decide to run for office?
There's more to be done in the city of Bonner Springs, especially in Ward 1.
• What special qualifications would you bring to this office?
The knowledge and familiarity of city government.
• How do you plan to stay in touch with constituents if you are elected?
People can always call me in Ward 1.
• The council recently gave a resolution of support for the Westgate project, a $64 million mixed-use development at 118th and State Ave. that would require the city to provide many development incentives. Do you support this development? Why or why not?
I did in the beginning, however, after talking to the people of our city, I have second thoughts of how and when it will benefit the city of Bonner Springs. It looks like Kansas City, Kan., will benefit more. The incentives offered will delay money coming back to Bonner Springs.
• Funding for future phases of the I-70/K-7 interchange is unknown, but the city will eventually face construction of an interchange at K-7 and Kansas Ave. What should the city do to prepare for this, especially in regard to its street network?
KDOT has worked well with the city. We have worked around any problems.
• As you have been campaigning, what issue have you found is most important for constituents in your ward? How would you address this issue?
Sidewalks and curbs. Ward 1 is the oldest infrastructure and needs (repairs) the most. But we never get support, even though we bring it up at council meetings.
• In your own opinion, what are the three most important issues facing the city? If you did not do so in a previous answer, please share how you would address these issues.
First, KDOT and reconstruction of K-7 in Bonner Springs is of utmost importance to all residents and businesses. The city needs to continue to work with KDOT planning officials to ensure businesses along K-7 and Kansas Avenue will continue to thrive during and after completion of the project. It is important that our residents continue to shop in our area.
Second, infrastructure in Ward 1. It is the oldest part of Bonner Springs and steps should be taken to preserve its integrity. It is the "foundation" of our community and where nonresidents coming into the city on K-32 get their first impressions of our city. Deteriorated curbs and sidwalks in Ward 1 should be replaced, not only for Ward 1 residents, but for the hundreds of people who park along Ward 1 streets during Tiblow Days, etc.
Finally, the Westgate project. This proposal needs to be more adequately researched to see if it will be financially beneficial to Bonner Springs. The incentives offered to the developer are for its benefit rather than Bonner Springs. It seems to me, Kansas City, Kan., will be the city that benefits first, as the Westgate project is closer to the Legends, etc. A small convention center or sports area would make more sense.