Face to Face: Bonner High history teacher Ryne Huff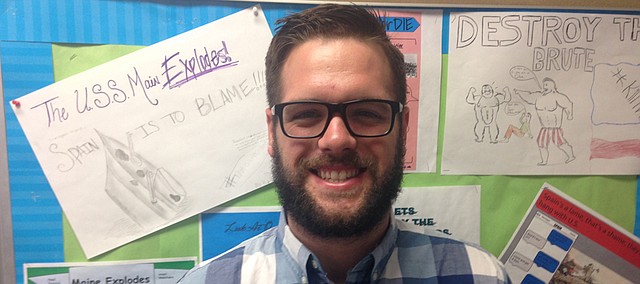 Name: Ryne Huff
Birthplace: Olathe
Family: Wife, Anna; 2-year-old son, Hudson
Occupation: Bonner Springs High School U.S. History and sociology teacher for the last three years; also the Social Studies Department Chair and co-sponsor of the KAY club.
Dream job as a child: Astronaut.
"Once I hit 6-foot, I was kind of like, 'You're not going to fit in the shuttle anymore,'" jokes the now 6-foot-6 Huff.
Huff said as he got older, he knew he wanted to "help out kids in some way," but he didn't know he wanted to go into teaching until he took an introduction-to-education course in college with his then girlfriend, now his wife, who is also a teacher.
"I really kind of fell in love with it," he said.
In addition to his father being a history buff, Huff said, he decided to go into history and social studies because he was inspired by a high school history teacher.
"He was a really student-focused, student-centered type of teacher," he said. "As I was going through the education process, I said, 'I think I want to be like him.'"
Hobbies: Huff says any free time he has is usually spent at his parents' West Bottoms store, Restoration Emporium.
Digging deeper: Huff Monday was awarded with the Education Foundation's Honoring Excellence award, recognizing him in part for bringing technology skills into his classroom as well as share them with his fellow teachers.
"Technology is one of the things I feel naturally drawn to," he said.
He applied for and won Education Foundation grants to get 10 iPads for his classroom, as well as Google Glass. The latter has turned out to be tricky, because it doesn't work fluidly with the school's existing WiFi technology.
"It's still something cool; some of the most advanced technology out there, and our kids will be able to check it out," he said.
Huff has used the iPads in history to scan codes to pull up articles, artifacts or videos for research or background on topics. In sociology, students use the iPads to record and edit video for their "culture of Bonner Springs" semester projects.
Huff also writes a weekly blog to share with staff, discussing apps, technological teaching methods, tips and tricks for using the district's grading software and other online teaching resources.
"I guess my goal was to was to impact not just the kids in my classroom, but through (the blog), be able to have an influence on others as well and try to help other new teachers and young teachers," he said.