Second to none: Longtime Bonner police chief announces retirement
City planning reception Wednesday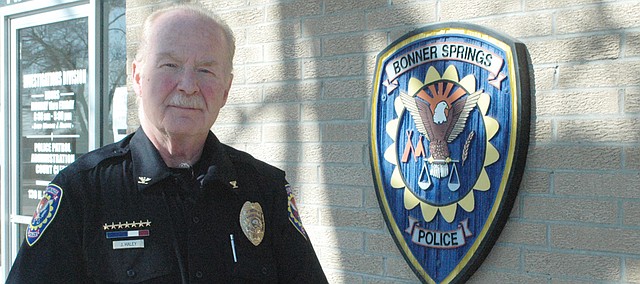 The Bonner Springs Police Department's motto, Nulli Secundis, means "second to none."
And in the last 16-plus years, under the leadership of Chief John Haley, it's clear that the department has lived up to that motto.
"Our buildings may be old, but that doesn't make us any less of a professional police department," Haley says. "Our equipment is good, and it's our officers and supervisors that make the difference, that actually make us so we are second to none."
Haley recently announced his retirement, effective next week. The city has planned a retirement reception in Haley's honor from 4:15 to 6 p.m. Wednesday at the Sunflower Room in the Bonner Springs Community Center, with a presentation at 5:30 p.m.
Haley spent his entire career with the department and said he has enjoyed providing protection to a small town with a strong sense of community. He said he thinks the relationship between the department and the community is good.
"You see so many national events now where you see the polarization between the police department and the community they serve," he said. "I think in a smaller community like this … we have the chance to develop those relationships in the community. I'm in a small enough agency where I know everybody by their first name, and most of them, I know their wife's name and their children's names."
Haley grew up in the suburbs of Detroit but moved to Kansas City in 1976.
"Because similar to today, there were no jobs in Michigan," he notes.
In Kansas City, he began to work in security because he had an inkling that he might want to eventually work in law enforcement. He said he applied with several police departments in the metropolitan area, and Bonner Springs was the first to hire him.
Haley started with the department in 1979 as a reserve police officer, joining the department as a full-time patrol officer a year later. At the time, there were only nine officers who operated out of Bonner Springs City Hall.
In 1987, he was promoted to sergeant and then promoted to lieutenant in 1996, about the same time the city purchased the building at 120 N. Nettleton Ave. to house the department. Haley was selected as the chief of police in 1998.
Now with 25 full-time officers, Haley said, the growth has been gradual for the most part.
"For years and years, Bonner Springs was kind of viewed as a training grounds; people would come here, get some experience and go to a larger department," he said. "There are several officers who have stuck it out, and I think now that dynamic has changed."
Haley said some people now tend to leave because they want to be on a SWAT team or traffic unit, which the Bonner department doesn't have, but the department largely has officers who see the benefits of policing a smaller town.
"People who come here to work get the chance to do all of the things that police officers do, helping with a search warrant or a lot of times they have a case that they're allowed to follow through to fruition, where in a larger department you might take the initial report and then turn it over to detectives," he said.
In 2010, the department moved its patrol and administration divisions to the former Atmos Energy building just next door to the north, remodeling the old building for the investigations division on a limited budget and with city employees and officers themselves doing some of the labor.
Haley said he was proud of the department for its work on the facilities, but noted brick and mortar are not the most important parts of the department.
"It's not the buildings that make up the police department," he said. "It's not the buildings that you leave behind that are the legacy; it's the relationships with the community and the interactions between the members of the department that are the legacy, the leaders within that you're able to develop."
John "Jack" Helin, city manager, announced last week that Sgt. Mark Zaretski would be Haley's successor. Haley said when he submitted his retirement, he recommended Zaretski as the next chief.
"I was secure in the knowledge that in my absence, Mark would be able to take up the reins and put his own mark on the department," Haley said. "I felt it would be in good hands when I left."
Haley said he was happy to see Zaretski's promotion because it exemplifies that the department supports upward mobility of its officers — that they can go through the ranks and eventually become chief, as Haley did.
"It creates that idea that all things are possible," he said.
Haley said he decided it was time to retire so he could spend time with his family and do some things while he was in good health. But he is certain his service won't end with his retirement.
"I've been serving the public for 35 years, and this probably won't be the end of my service, it will just be in some other form," he said. "I'm not sure what that will be, but I'm sure I will know it when I see it."