Kansas City Connection: City Market a hub for delicious ethnic food
When people ask me what neighborhoods they should check out in Kansas City, I try to find out what their goals are.
If it's high-end shopping they're after, I recommend the Country Club Plaza. If their plan is to drink, I send them to Westport.
And if their objective is to eat a lot of different kinds of ethnic food at fairly inexpensive prices, I direct them to the City Market.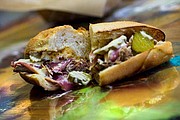 In recent months, the dining options in the City Market have only increased, with the addition of several new establishments ranging from Vietnamese rice dishes to Neapolitan pizza. The City Market is currently full of traffic barriers and utility work related to streetcar construction, but anyone willing to work around it will be well rewarded.
At the corner of Fifth and Grand, Nguyen Pho and Grill offers a tasty pho soup, with options including eye-round beef, meatball, chicken, tofu and veggies, as well as bahn mi sandwiches made with grilled steak, grilled lemongrass pork, meatballs or beef stew. Nguyen also serves curry dishes, vermicelli plates, boba tea and more, seven days a week. Visit nguyenphokc.com for a full menu.
In the northeast corner of the market next to Taste of Brazil, sandwich and tamale emporium The Bite does brisk lunch business each day from 10:30 to 4 p.m. (open an hour earlier on weekends).
Chef Carlos Mortera's menu items incorporate a hybrid of Mexican, Asian and American flavors, with customer favorites including the "Sloppy," (housemade soy chorizo, corn, olives, queso fresco, Sriracha crema and cilantro), the "Bay of Pigs" (tamarind pork, prosciutto, smoked Gouda and habanero pickles) and the "Ko-Fu" (smoked tofu, Korean BBQ sauce, carrots, pickled onions and cucumber).
Tamales are available with two different kinds of masa, including one made with sweet corn. Visit thebitekc.com for a full menu.
Il Lazzarone, the only pizza parlor in Kansas or Missouri to be certified as authentically Neapolitan by the American Delegation of the Associazione Verace Pizza Napoletana, opened a new location just last week at 412 Delaware.
Wood-fired pizza master Erik Borger expanded into the Kansas City area after his St. Joseph, Mo., location began attracting a loyal following of out-of-towners. The expansive City Market location, with its deliciously light, crispy pizza, fresh salads and dozens of beer taps, has already proven popular with opening month visitors.
Il Lazzarone is open from 11 a.m. to 1:30 a.m. every day but Sunday, when they close at midnight. Visit illazzarone.org to see a full menu.
Kansas City has traditionally lacked establishments that function as both a high-quality coffee shop and a bar, a la Lawrence's Bourgeois Pig. But Thou Mayest Coffee Roasters, at 419 E. 18th St. in the Crossroads, fulfills both functions admirably.
With an interior full of exposed brick, reclaimed wood furnishings, unconventional light fixtures and lots and lots of plants, Thou Mayest is a modern yet relaxing atmosphere that is conducive to conversation. The coffee itself is pretty phenomenal as well, as are the pastries, cocktails and rotating selection of draft beers.
On nice days, check out the upstairs or downstairs patio. Thou Mayest is open from 7 a.m. to 7 p.m. Monday through Wednesday, and until midnight Thursday through Saturday. Sundays are a day of rest/roast. Learn more at Thoumayest.com.
Concerts
Tuesday night at the Riot Room offers a can't-miss night of rock 'n' roll, with local punk bands Nature Boys and The Bad Ideas opening for New Jersey punk trio The Screaming Females.
All three bands feature dynamic female vocalists and uptempo, tightly arranged punk songs with enough catchiness to win over more pop-inclined listeners. Tickets are $10 for this show, which starts at 8:30 and is 21 and over.
On Saturday, rock legends Fleetwood Mac hit the Sprint Center for an 8 p.m. concert featuring Lindsey Buckingham, Mick Fleetwood, John McVie, Stevie Nicks and Christine McVie, who recently rejoined the band after 16 years.
Remaining tickets are on sale for $77.50 and up at sprintcenter.com.
— Lucas Wetzel is a writer and editor from Kansas City, Mo. Know of an upcoming event in Kansas City you'd like to see featured in Kansas City Connection? Email us about it at kcconnection@ljworld.com.