Bonner Springs golfers aim for return to state
The Bonner Springs boys golf team learned a lot from its seventh-place finish at the state tournament last spring. Coach Steve Miller is hoping that success and experience will carry over as the Braves embark on a new season.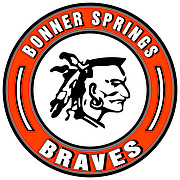 "The state tourney was great for our golfers for a few reasons," Miller said. "First, they got to experience the added pressure that comes with championship play. They also get a chance to gauge where they stack up against the top talent in the state.
"It's really a motivational tool for the returners. They love the whole weekend. We go stay at a hotel, play a practice round, go out to eat together, and it's really a fun time for them."
Three varsity golfers are returning to the fold this year, including seniors Steven Greer and Caleb Malone, and sophomore Nathan Hinton. Thirteen players are on the team this season, which is the most Miller has had in his three-year stint at the helm. Junior Mason Hurla and freshmen Michael Williams and Chris Dolinar will round out the varsity squad.
"Steven is a four-year varsity golfer, so we will be looking to him to set the tone for the team this year," Miller said. "Caleb is fairly raw but has some really good talent, so we will look for him to pick up on some of the nuances of the game to lower his scores."
Missing from this year's team is Marc McClain, who was lost to graduation. McClain won the Class 4A individual state title last season with a round of 69 at Mayeta Firekeeper Golf Course, just north of Topeka. His score led the way for the Braves, who finished with a team total of 348.
Malone posted the highest score among this year's returners with a 93, and Greer and Hinton followed with rounds of 102 and 126, respectively. Miller is hoping that with another year under their belts, his veteran players can make an even bigger impact this season.
"As a team, we are focused on the short game, as well as the mental side of the game," Miller said. "Our goal is to be the best group of golfers on and around the greens. We also want to be able to remain positive, no matter what adversity stands in the way."
---
Jon Poorman is the sports editor at The Chieftain. Follow him on Twitter at @JonPoorman for all of the latest community sports news.