Bonner Springs girls soccer trounces Ottawa
The Bonner Springs girls soccer team needed just 43 minutes to put double-digit goals up on the scoreboard against Ottawa on Tuesday evening, rolling to a 10-0 victory over the Lady Cyclones at David Jaynes Field.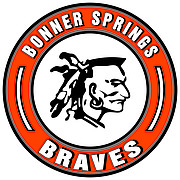 "They're moving the ball well, and they're starting to get that team chemistry," Bonner Springs coach Mike Moulin said. "That's what we need."
Junior midfielder Miyah Hightower led the charge for the Lady Braves (2-0), scoring seven goals. Six of those came in the first half as Bonner Springs built a commanding 8-0 advantage before the intermission.
"We switched up a little bit at midfield," Moulin said. "[Hightower]'s always been my forward, and we dropped her back to midfield this year when we lost a key midfielder. But I think with her experience up there, we'll continue to do well on the offensive end."
Senior Shelbey Taylor, and juniors Kaylan Roberts and Gwenyth Barrett also added goals to complete the shutout spread victory. Ottawa was held without a single shot attempt and struggled to advance the ball past midfield throughout the match.
"It's been kind of rough losing a few people [from last year], but we all just have to pick up the slack," Hightower said. "So far, so good."
The Lady Braves now have two victories under their belts after securing a 3-1 triumph over Baldwin in their season opener last Friday.
Bonner Springs has the rest of the week off before hosting Shawnee Heights and Kansas City Christian on April 6 and 8, respectively.
"We need to start picking up the speed of play because we go into some tough competition next week," Moulin said. "Ottawa's a great team, but we play some big schools next week that are going to push us a little bit more."
Bonner Springs, which made an appearance in the Class 4-1A state tournament in Kansas City last spring, is hungry for more after going 0-for-2 against Topeka Hayden and Bishop Miege to finish with a 13-7 record.
The Lady Braves have the experience of three seniors — Faith Seaton, Gabrielle Bennett and Taylor — and also have six juniors on the team to round out a roster laced heavily with upperclassmen.
"I think it's just confidence," Moulin said. "A lot of them have the confidence. They've been there, done that. That carries over quite a bit. Last year they were young, their confidence wasn't there, and it was a little shaky. Now they know what they need to do to get to that next level."
---
Jon Poorman is the sports editor at The Chieftain. Follow him on Twitter at @JonPoorman for all of the latest community sports news.