Face to Face:
USD

204 administrative assistant Stormi Vitt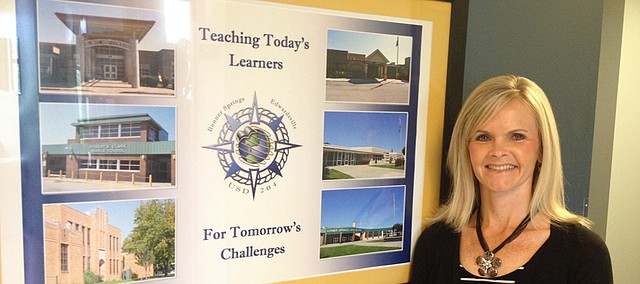 Name: Stormi Vitt
Birthplace: Vitt is a lifelong Bonner Springs resident but was born in Kansas City, Kan., at Bethany Medical Center.
Family: Husband, Dennis, and two grown sons, Dalton and Weston
Occupation: Administrative assistant to the director of business and human resources for Bonner Springs-Edwardsville USD 204
Dream job as a child: A nurse.
"But I would have been way too squeamish for that," Vitt said.
Hobbies: Vitt enjoys exercising, attending Royals games, trips to the lake and spending time with family and friends. She also cheers for the colleges where her sons are students; Dalton just graduated from Northwest Missouri State, and Weston is at Kansas State University.
Digging deeper: While working in education was never something she planned on, it's something Vitt says she found she enjoys.
Vitt got married and started a family not long after high school, staying at home with her sons in their early years. She first volunteered at Bonner Springs Elementary when her sons began school, but officially started with the district 15 years ago when she was hired as a reading paraprofessional.
She said helping children was a good fit for her.
"I went to Bonner schools all my life, and I had a lot of teachers who were influential, and I really liked what I did when I was a reading para," she said.
Vitt then became one of the school's office personnel, and then in 2013, she moved to the district's central office.
She said being in the central office has given her a great appreciation of how much it takes to run the district and how good the staff is.
"I would have never guessed, until I came over here, how busy this place was," she said. "I don't think people understand what all goes on here."
Vitt herself is one of those who is more than pulling her weight — last month, she was given an Honoring Excellence Award from the Bonner Springs-Edwardsville Education Foundation. She said she was surprised and honored to receive the award, saying her job feels more like helping people than work.
"After living in Bonner my whole life, I feel like I'm serving my community by working at the school district," she said.