Bonner Springs boys take 5th at Red Bud Classic
The Bonner Springs boys track and field team finished fifth at the 31st Annual Red Bud Classic at the Wellsville District Stadium on Friday evening, scoring a total of 45 points.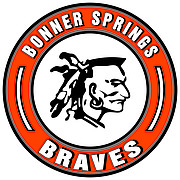 The Braves were preceded by Baldwin (101), Osawatomie (69), Paola (63) and Wellsville (52.33) in the team standings.
Bonner Springs was led by its 4x100-meter relay and 4x100-meter throwers relay teams, which both took first place with times of 44.77 and 50.37, respectively.
The Braves' lone second-place finisher was Riley Ballou-Lyngstad, who finished the 800-meter run with a time of 2:05.80.
Bonner Springs posted three third-place finishes with Michael Amayo in the long jump (19-10.50), Marcell Holmes in the 100-meter dash (11.83) and Jonah Freese in the 200-meter dash (23.59). Amayo also took fourth place in the triple jump with a mark of 40-03.50.
Jacob Dobbs placed fifth in the discus throw with a toss of 128-10, and the Braves' 4x400-meter relay team also took fifth with a time of 3:37.88.
Jamison Jackson took sixth place in the triple jump with a mark of 39-07.00. He also took seventh in the long jump with a mark of 19-01.50. Bonner Springs' 4x800-meter relay team took seventh with a time of 8:49.76.
Freese had a pair of eighth-place finishes in the long jump (19-00.50) and the triple jump (39-05.00), and Preston Pyles took eighth in the shot put (44-04.00).
---
Jon Poorman is the sports editor at The Chieftain. Follow him on Twitter at @JonPoorman for all of the latest community sports news.