Francis leads Lady Braves to fourth-place finish
The Bonner Springs girls track and field team finished fourth at the 31st Annual Red Bud Classic at the Wellsville District Stadium on Friday evening, scoring a total of 34 points.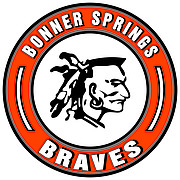 The Lady Braves were preceded by Paola (162), Baldwin (148) and Spring Hill (39) in the team standings.
Jonita Francis led the charge for Bonner Springs, scoring 26 of the Lady Braves' points. She took first place in both the 100- and 200-meter dash events with times of 13.37 and 27.03, respectively. Francis also took third place in the 400-meter dash with a time of 1:02.66.
Julianne Jackson also contributed with a second-place finish in the long jump with a mark of 27.03, and Arionna Holliday took 10th place in the triple jump with a mark of 29-09.50.
---
Jon Poorman is the sports editor at The Chieftain. Follow him on Twitter at @JonPoorman for all of the latest community sports news.