Parent thanks
USD

204 staff for education of her special-needs son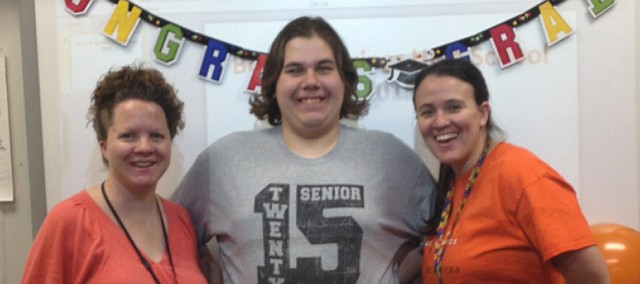 Steven's diagnosis came on Oct. 5, 1998: High Functioning Autism.
He was 2 years old, regressing and losing what few words he had. He started school that year in Holden, Mo., 17 years ago. Among our many emotions and thoughts at that time was, "How will we ever make it to graduation?" It seemed like a lifetime away. Now that it's here, we are thinking "How will we ever make a life for him beyond high school?"
Honestly, the past 17 years has taught us that there is no doubt, because he is at the wheel. He has become the most incredible human I know. Thankfully he is kind, caring, empathetic, out-going, teachable and has a contagious laugh!
We did not travel this journey alone, we have many people to thank for his progress. When looking for the best place to raise our son, away from Holden, I was lucky to have an enlightening conversation with Leia Holley with Families Together, Inc.
She had a son in the Bonner school district and was paving the way for our kiddos to be included and accepted in the school setting. She convinced me that Bonner Springs was the best place for us to raise Steven. Who would have thought that my hometown would be that place? I came full circle. Thank you Leia Holley.
Bonner Springs Elementary was our next destination. That began with Kim Mitchell (my neighbor growing up) and Special Ed Teacher Tierney Thompson. Tierney came to Blue Springs, Mo., to observe Steven at the segregated school he was attending, and she clearly saw his full potential.
She then drove to Oak Grove, Mo., met me at the McDonald's and told me that Steven could be in a regular education class with regular ed teachers and students! That took me to my knees ... cried my eyes out that morning. Thank you Tierney Thompson.
She put him in Mr. Hand's class at BSE for his fifth grade year. In that setting, Steven learned to make friends and learned in an environment that did not stress him. Mr. Hand treated him the same as all the other kids, and eventually the peers took the place of a para. Thank you Mr. Hand and thank you Kim Mitchell, it was the beginning of showing him a world of acceptance.
Mrs. Andrea Janes took over at Clark Middle School. Her team, along with the "regular ed" teachers who welcomed Steven in their classes, helped him follow a schedule and continue to be a more independent part of his environment. Thank you Mrs. Andrea Janes.
Bonner Springs High School was a rough transition for Steven, as it is with most kids, but eventually, like everything else, he adapted. Steven will now transition to a program that will help him learn the skills to gain employment or attend college, and he is ready.
Thank you Robert Young for your help giving us a direction. Thank you Tierney Thompson (again) and Julie Deason, as well as Joe Hornbeck. Thank you to each and every para who had the privilege of working with Steven; there are too many of you to thank individually! You know who you are and you know he needed you and you helped him...you are angels.
Most of all thank you to all of Steven's friends and peers. I have always said that the kids in this town are the most accepting of our exceptional children, and I truly think that the foundation for that acceptance comes from their homes and is reinforced in a school system that embraces inclusion. A school system I know well as a graduate of the class of 1987, my alma mater, my hometown. From me, Monica (Dick) Shonkwiler; Steven's dad, Scott Shonkwiler and his brothers, Brad and Sean Shonkwiler — thank you Bonner Springs Braves!