Face to Face: Edwardsville paramedic Christy Johnson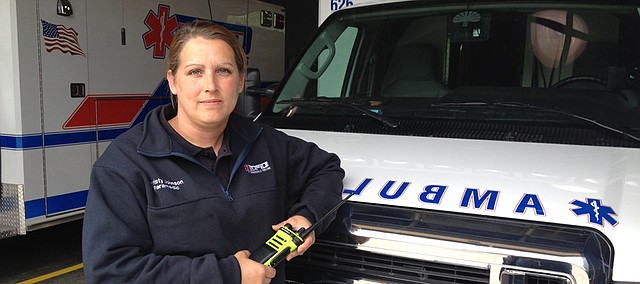 Name: Christy Johnson
Birthplace: Kansas City, Kan.
Family: Husband, Jay, and two children, ages 15 and 13
Occupation: Paramedic with the Edwardsville EMS Department
Dream job as a child: A doctor.
It was a dream she planned to follow through on, as she began taking the prerequisite classes for medical school.
"But then I fell in love and had a family," Johnson said.
Hobbies: Johnson said her only hobbies anymore are her children and their sports.
Her daughter plays competitive softball, which is particularly time consuming. Just this year, they will travel to Oklahoma, South Carolina, potentially California and a few times to Texas, trips all related to her daughter's softball team.
Digging deeper: Next week is National EMS Week, and Johnson is one paramedic who thoroughly enjoys her job.
"I like how raw it is," she said. "I like the adrenaline. I like the unknown part of it."
After meeting her husband in college and starting a family, Johnson said she thought if the schooling to become a doctor was too much, then perhaps she could be a nurse.
So she began to take nursing courses and became a patient care technician at Menorah Hospital in Overland Park. She said the job made her realize she wasn't made to be cooped up in a building.
She knew it wouldn't take long to become an EMT, so she decided to begin coursework for that.
"Once I started working for an ambulance service, I was like, this is it — I love it," she said.
Johnson first worked with AMR for four years as an EMT and then completed her schooling to become a paramedic with Leavenworth County EMS for four and a half years, before joining the Edwardsville department three months ago.
Johnson said another part of her job that she enjoys is the camaraderie with her co-workers.
"In some situations, when you and your partners are going in, you just don't know what you're getting in, and it's amazing how everyone just clicks together and everyone knows their role," she said.