Class of 2015: Bonner senior says being involved leads to good things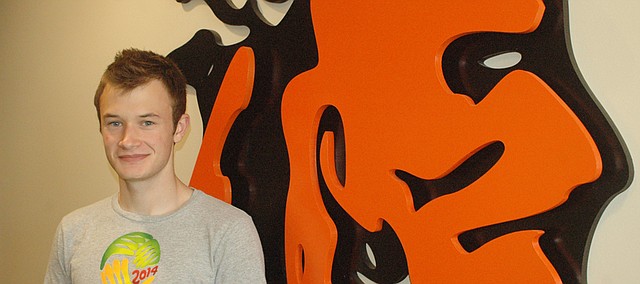 Sam Nelson says he didn't jump into school activities with both feet his freshman year at Bonner Springs High School.
It took a little bit of prodding from his parents, Kim and Steve Nelson, and his teachers to get him started.
"It just kind of grew until my senior year it seemed I was involved in pretty much everything," he said. "I just enjoy doing things for our community and school. I have a really good sense of school pride; I try to do what I can to make the school a better place."
It worked out well for Nelson; his involvement helped lead him to become one of the valedictorians for the Class of 2015.
Nelson was president of the National Honor Society, a captain in Orange Crush, a captain on the soccer team and swim team, Student Council Senior Class Representative, president of this year's newly founded Key Club, and co-president of the Friendship Group. He also was involved with Yearbook, Peer Helpers, and Spanish Honor Society.
He said of all of those activities, working with special education students in Peer Helpers probably had the biggest effect on his life.
"You just really felt the biggest impact by doing those things," Nelson said. "A lot of things you do that are community service related … you don't really see it, but in there, you're one on one and become friends with someone and get to teach them social skills."
He said being on the swim team also stands out in his mind, particularly after this year's record-breaking season that took the team to the state swim meet.
"It was really fun … it was a really good sense of being part of a team," he said.
Nelson had planned to attend Kansas State University to study business and psychology, but after earning a University of Missouri-Kansas City Chancellor's Scholarship, he has decided to attend that school instead to major in psychology and philosophy.
"I got into the honors program there … and I really just like the feel of the UMKC campus," Nelson said of going to the slightly smaller school.
His major, however, has been a little bit more set in stone — he was inspired to study psychology some time ago by an uncle who is a psychiatrist. Philosophy, he said, is an interest he has developed through reading in his free time.
Nelson said he feels many of his fellow members of the Class of 2015 are less sure of their futures.
"I don't think there's a lot of kids set in stone what they want to do, but I think everyone had their plans set, whether they were going to go to community college or technical school or a four-year university," he said. "… So I think they're well-prepared for advancing their education, but a lot of students don't really have an idea of what they want to do."
He also thinks a lot of his classmates will remain true to their Bonner Springs community and return here once they have completed their education, started their career are ready to settle down.
"I think a lot of kids say they want to move somewhere, but I don't think they will; I think they'll come back to where they started," he said.
Nelson was one of a handful of students that may as well have stayed on the stage at BSHS's recent Senior Awards Night ceremony. He was recognized with several academic awards and accomplishments, including the Kansas Governors Scholar Award, Kansas Honors Scholar and a 2015 Kansas Designated State Scholar. He also was noted for receiving 10 different local scholarships.
For the underclassmen at BSHS, he had a few tips for those who hoped to spend a lot of time on the stage at their own awards night ceremony.
"I'd say being involved in a lot really helped because of networking," Nelson said. "Being involved, having good grades and applying for as much as you can. I know I got one of my scholarships because I was the only one that applied. It's worth it to apply for all of them."