End of an era:
BLHS

teacher says goodbye after 35 years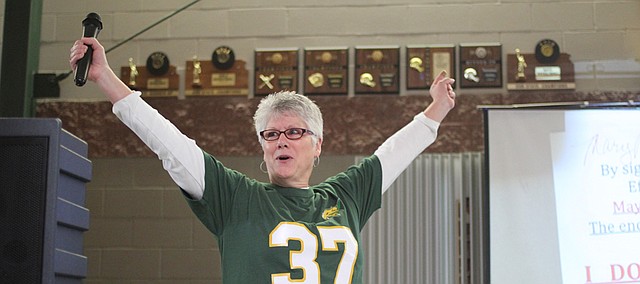 Susan Mayberry remembers Mary Myer as one of her favorite teachers when she was a student at Basehor-Linwood High School.
She said Myer, family and consumer science or FACS teacher, was a teacher who was always prepared.
"And she made learning fun by having a variety of projects," Mayberry said. "She made us work, but it didn't seem like work because it was fun. She also talked with us, not to us. Mary also let, and continues to let students be themselves."
Now also a teacher at BLHS, Mayberry has counted Myer among her favorite co-workers, learning that Myer is an excellent mentor to her fellow teachers.
"I have learned so many things from Mary Myer in my time as a teacher," Mayberry said. "She gave me the courage to try new things. (She says) 'Tell your kids we going to try this activity or assignment, and see how it works.' In other words, don't be afraid to try and fail. 'Oh well, learn and take what you can from the experience,' she'd say."
But the last week of the school year this week also marked the last week of school for Myer after 37 years of teaching, 35 of them at Basehor-Linwood High School.
"I always said I wasn't going to teach my whole life, and look what happened," Myer laughs. "I'm not sure what else I was going to do… but it just whirled by. I really do not feel like — 37 feels like a really large number. But when I get in my room, and it's just me and my students, I love teaching."
Myer was born in Wyandotte County, where she grew up playing school with her four sisters using old textbooks.
"I was always going to be an elementary teacher," she said. "It wasn't until high school that I decided I was going to be a family and consumer science teacher."
At Washington High School, she took four years of sewing because she loved her teacher, altering her career choice.
Myer did her student teaching at F.L. Schlagle High School, but when she couldn't be sure she would get a job there, she accepted a position in Harrington, Kan.
"It was probably the best thing that ever happened to me, because I probably wouldn't have ended up in Basehor, because I wouldn't have been looking for a job in two years," she said.
But she was looking for a job because she needed to move back to Kansas City, where her soon-to-be husband lived, and a friend was the football coach for Basehor High School.
FACS has changed a lot in Myer's time — for example, she noted that she hasn't taught sewing for years.
"Now, to me, our focus is on career skills," she said.
Myer most recently taught courses that were a part of three different pathways: culinary courses in the Restaurant and Event Management pathway; classes like personal finance or nutrition and wellness for the Family and Community Services pathway; and finally, human growth and development or teaching as a career for the Teach and Train pathway.
She said the changing goals and breadth of FACS courses haven't been without a challenge, especially when one considers that actual chefs have been hired at some high schools to teach culinary courses.
"I'm a great cook but I'm not a chef, and I'm trying to learn to be a chef and act like a chef," she said. "… So it's definitely been an adjustment for me, but I'm not really a person who 35 years ago figured out what I was going to teach and just pulls it out and does it over and over again. I'm constantly looking for new ways, so I think it's great that FACS has constantly changed over time."
She said enjoyed knowing that her courses, even as they changed, always allowed her to teach skills she knew her students would use later in life.
"Even though it is career focused, it's still very useful information," she said. "… it's very relevant. My students aren't saying 'Why do we have to know this?'"
Students knew Myer as School Rule Enforcer — even if she doesn't personally agree with all the rules, she says she felt it was her job to enforce them, which she knows often makes her the bad guy.
But her co-workers said most students, once they got to know her, didn't see her that way.
"While she has a reputation for being a rule follower, the students know what to expect from her and respect her for her values and consistency," Vicky Herbster, biology and anatomy teacher, said. "She treats everyone fairly and equally."
"What I see by the end of the semester or school year is that each student takes on some of Mary's tendencies and styles," Mayberry added. "They sit with each other and question things. They, too, become accustomed to the rules, and actually learn the rules of the school."
Students would quickly learn that Myer has a great sense of humor and is very creative.
"They feel comfortable asking Mary anything about anything," Mayberry said. "She is often engaged in conversation with the students. They love her."
Myer said she decided to retire because her husband retired a year ago, and her first grandchild was born in December. She said she is looking forward to traveling and spending more time with family.
"There's something that says 'You don't want to retire too early but you don't want to retire too late,' and I think I'm doing it at just the right time," she said.
But she wanted to come up with a unique way to let her students know she was retiring, and in February, she found inspiration by the upcoming National Signing Day. She decided she would make up a letter of intent and do her own signing.
"They made an announcement that said if you were in my class, or were in my class last year or even liked me, then come to my signing," she said.
She read off her letter of intent, which she said included lines like "I do not intend to tell students to take off their hat," and "I do not intend to ask students if they forgot the second half of their skirt." But her last statement was that she did intend to retire.
While she joked that everyone cheered because they were glad to be rid of her, her co-workers say it will be just the opposite next year.
"Mary is a true blessing, and her colleagues have secretly been talking about how we will survive after this year without her," Mayberry said. "When I told her, I'm going to miss her so much, she said, 'I know you will. Just remember, you may not see me every day, but I'll still be your friend.'"