Face to Face: Bonner Springs business owner Val Barth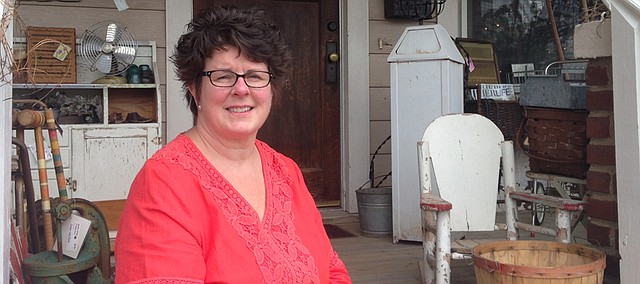 Name: Val Barth
Birthplace: Kansas City, Kan.
Family: Husband, Pete; two daughters, Jessica and Jackie
Occupation: Owner, DeeDee's Jewelry and Vintage Decor, 141 N. Nettleton Ave.
Dream job as a child: Barth doesn't remember having a specific job in mind, though she always knew she would do something creative.
"My mom always had me doing handwork, and they were really into antiques and they'd go to auctions, and I'd ride in the back of the truck," she said. "I guess I've been doing this my whole life in one way or another, and I guess it always came natural to have a shop. I've always wanted to be a shop owner and be around things that mean something to people, that have some history."
After college, she became a bank manager and then a stay-at-home mom before opening DeeDee's in late 2012.
Hobbies: Barth's hobby has become her work, but she says in addition to shopping for and decorating the store, she still finds time to help out others just for fun.
"I love to decorate," she said. "My friends are always calling me over to their homes to help decorate, especially if they are having a party."
Digging deeper: DeeDee's may be best known for the antique and vintage decor that Barth finds at estate sales and auctions around town, from vintage flour sack towels to old-fashioned pencil sharpeners to depression and milk glass items. But Barth notes they have a wide variety of interesting items beyond antiques.
"Antiques aren't for everybody, and we have more than antiques in here," she said. "We buy new things at market all the time."
That includes Barth's handmade jewelry, candles, dip mixes and, coming later this year for the holidays, even a pie crust mix.
DeeDee's has found some success with a good following on social media — who often buy new inventory as soon as photos of it are posted on Facebook — and a 26 percent growth last year. It also helps that the Downtown Bonner area is becoming known for antiques, vintage and repurposed decor and clothing with businesses like The Pink Zebra, Garland Taylor Home, This and That and Flip KC.
Still, Barth says she gets first-time customers who somehow haven't noticed the store, located in a former home, as they've driven past in the last two and a half years.
"We get people every day who say 'Oh my gosh, I didn't know you were here,'" Barth said. "Or they drive by every day and don't take the time to stop, so when they do stop, they're happy they did."