BSE

principal reflects on amazing, 'unreal' school year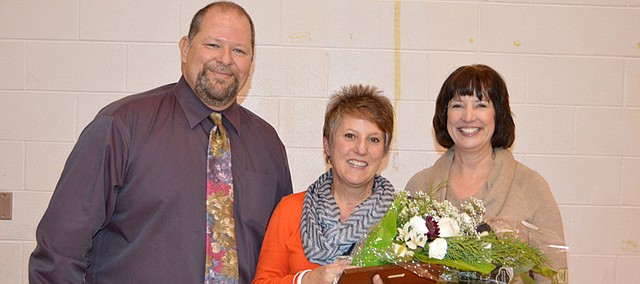 As jam-packed full of activity as the 2014-15 school year was, Bonner Springs Elementary Principal Kim Mitchell still can't quite believe the year is over.
BSE had a year unlike any other, with Beau Bragg, physical education teacher, becoming a Kansas Teacher of the Year Finalist, not to mention two principal of the year awards of her own.
"We've had a great year," she said. "It's just kind of unreal, it really is; it's been a ride."
At the beginning of the year, there was no indication of how different this school year would be. But then they learned about Bragg's finalist status in September. In October, Mitchell was awarded an administrator of the year award from the Kansas Association for Health Physical Education, Recreation and Dance.
Then in December, Mitchell learned she had been selected as one of four regional finalists for the Kansas Teacher of the Year. In February, the district held a surprise ceremony to let Mitchell know after she was officially selected for the award, meaning she was a nominee for the National Principal of the Year.
Mitchell said it came as a shock because, though she had filled out an extensive application for the honor at the end of the 2013-14 school year, she had practically forgotten about it.
"It was out of sight, out of mind and I never gave it another thought," she said. "It wasn't even on my horizon."
In February, the school got to strut its stuff for all of the Kansas Teacher of the Year finalists as they visited USD 204.
Another special development this year was BSE got to make full use of its new outdoor learning center, which was named Hunter's Outdoor Learning Area, or HOLA, in honor of Mitchell's grandson, who was born prematurely and lived only 18 minutes.
In honor of him, the stage area in HOLA also is named the 18-minute Amphitheater.
"We wanted a place where students go a see how many things they can do to make a difference even in just 18 minutes," Mitchell said.
Mitchell decided to get into education because of the stories she had heard from her grandmother growing up in Garnett.
"My grandmother taught in a little one-room school house," Mitchell said. "And I just loved all of her stories and what she used to talk about — I wanted to be a teacher from the time I was a tiny, little girl."
Mitchell keeps her grandmother's teaching certificate from 1953 hanging on her office wall.
She attended Emporia State University with her husband and moved to Bonner Springs even before Mitchell got a job with USD 204. Her first job was with MacArthur Elementary in Fort Leavenworth, while her husband got a job with F.L. Schlagle High School in Kansas City, Kan.
"We just really liked the community when we drove up here, and liked the little, small-town feel," she said of their decision to make Bonner their home.
After 11 years at MacArthur, Mitchell took a Title 1 reading position with USD 204. Eight years later she became the assistant principal at BSE, becoming the principal in 2007.
She said moving into administration wasn't one of her plans until she moved into the Title 1 reading position and became coordinator of Title 1 programs for the entire district.
"I like the organizing, working with others, creating the plan of what we were going to do," she said. "It was just really awesome to see where the kids had started and where they had ended."
She said she began taking on other leadership roles, and she decided to go back to school to get a second masters degree for building leadership.
Over the summer, she will begin to take recognition for that leadership as she prepares to attend the National Principal of the Year Ceremony in Washington, D.C., in October, bringing an informational video about BSE with her.
But even with her own awards, Mitchell said she will remember the KTOY Finalist award for Bragg the most when she thinks back on this amazing school year.
"I just think it is so awesome; (Bragg) is one of the most humble and unpretentious people I've ever met," she said. "He just does his job so beautifully every day without one moment thinking 'Oh, I should be recognized for this,' or 'I'm doing great things,' but he really is doing great things. He has done so many positive things for this building; I was more excited for him winning than me."
Mitchell said she also loves that not only did Bragg become a finalist, but Kim Nelson, Clark Middle School teacher, was a finalist as well, bringing some much-deserved attention to USD 204.
"It kind of puts Bonner on the map, because I have always said this is the best-kept secret in the Kansas City area," she said. "It's such a great community, and we have such strong schools and such incredible community support."