Libraries to celebrate heroes this summer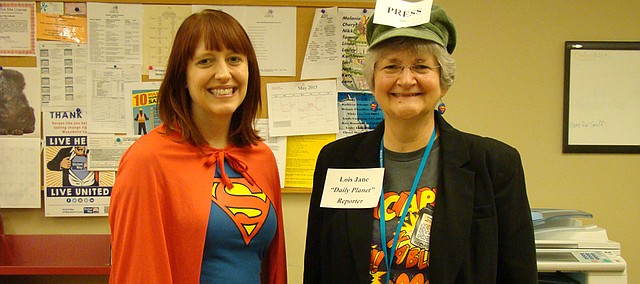 Once the summer of 2015 is over, the Basehor and Bonner Springs libraries will have made heroes out of every reader.
Both libraries are using the "Every Hero Has A Story" theme organized by the Collaborative Summer Library Program consortium, and registration for the free programs is underway or will begin soon. In Bonner Springs, where the library is focusing particularly on super heroes, young readers who participate in the free programs and workshops will even look the part.
"By the time the kids get done, they will have a complete superhero ensemble," said Jane Rink, children's coordinator at the Bonner Springs City Library. "There will be superheroes all over Bonner Springs, we hope."
At the Basehor Community Library, registration began Wednesday at the library and online at basehorlibrary.org, and participants can start recording their reading on June 1. The library will have a special Summer Reading Kickoff event 9 a.m. to noon May 30, with "touch-a-truck" in the library parking lot that will allow children to meet with local heroes: members of the VFW, firefighters, police officers and more.
For children aged 3 through sixth grade, the Basehor library is making it simple: no keeping track of books or minutes, just read every day to earn a weekly prize.
Younger readers also can play "Bam! Pow! Read! Bingo" and earn a free book. Bingo cards are available at the library, where they also can enter their name in special weekly drawings for prizes.
Summer Reading programs for younger readers will take place at 11 a.m. and 2 p.m. on "Wacky Wednesdays," and will allow participants to become a superhero, watch jugglers and magicians, do science experience, see Operation Wildlife birds and more.
There also will be a special Sleepover at the Library event July 10 for ages 6 to 12.
For those in seventh grade and older, participants can also ready anything but should keep track of the minutes they read. For every 20 minutes, participants will be awarded one library "dollar," and at the end of the program July 28, the library will auction off prizes.
Even babies and toddlers can participate — parents can sign them up and track the number of books they read to children 2 and under. They will receive a prize after 30 books and a board book after 60 books.
Sign up for Summer Reading program at the Bonner Springs City Library begins May 26. Readers can earn up to six prizes for a certain number of books read or number of minutes spent reading, shown on their reading logs.
The library will have a special Summer Reading Kickoff event May 30, with sign up for June special programs beginning at 9 a.m. and the kickoff party from noon to 2 p.m. Participants are invited to attend dressed as their favorite superhero or villain for the party, and games and snacks will be provided. The Friends of the Library also will have a special book sale that day from 10 a.m. to 2 p.m. in the basement.
Several special summer reading programs are planned, starting with a Dino O'Dell concert May 1, and at least one program available every weekday along with some Saturday programs thereafter. Programs include Clement McCrae Puppets, making superhero capes and creating comic books in Teenopolis and Kidscape. The library also will celebrate local heroes with some programs including the Bonner Springs Police Department.