Bonner hair salon finds new home after fire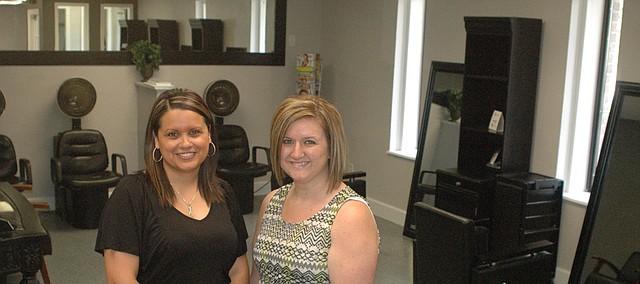 After a fire damaged her Bonner Springs hair salon in December, Jessica Sanchez thought maybe it was the end of her business.
"I was just a big mess; I didn't know what I was going to do," Sanchez said. "Was I going to reopen? Was I going to go back to working for someone else?"
But after a few months, things worked out for the better — she found a new business partner and a space double the size of her former salon, all while keeping the business in Bonner Springs. Savvy Hair Studio reopened earlier this month at 11939 Kaw Drive.
"(The first location) kind of ended badly, but I guess everything happens for a reason, because now we're here," Sanchez said.
Sanchez, who is originally from Indiana, has been a hairstylist for 16 years. She started doing hair in salons near her Shawnee home once moving to Kansas eight years ago, but three years ago, she began working at a salon in the Bonner Shops on Front Street. After about a year, the salon's owner decided to sell, so Sanchez took over the business.
"And then it caught on fire," she says.
On Dec. 29, a repairman was working on a burst pipe in the bathroom, and as he was welding the pipe back together, the wall caught fire.
With her lease up in March anyway, Sanchez decided she didn't want to try to reopen the business in that location. Sanchez and the three hairstylists who worked with her temporarily rented space at Hello Beautiful salon in western Shawnee while Sanchez debated Savvy's future.
In March, one of those stylists, Kelly Cummins, offered to partner with Sanchez to reopen in a new location.
"I was like, 'I've never met a stylist that I think I would do that with, but I would definitely do that with you,'" Sanchez said.
Cummins is a Piper High School graduate who has been a hairstylist for nine years. She started her career at Bangz salon in Bonner. She had joined Sanchez at Savvy a year before the fire.
Both decided they wanted to stay in the Bonner Springs area and began to look for spaces in late March. Luckily for them, the arts and crafts nonprofit Create was in the process of moving to Downtown Bonner Springs.
"This space became available and we just jumped all over it as soon as we saw it," Sanchez said. "I think we called the lady the same day she put out the sign."
The new space is double what Savvy had at its former location. Sanchez and Cummins spent the month of April remodeling it to allow for six stylist booths, opening May 5.
With the larger space, Cummins said they hope to add some retail and possibly a nail technician. The hairstylists who formerly worked with Sanchez and Cummins opted to stay at Hello Beautiful, so with the addition of stylist Julie Jackson, Savvy has space available for three more hairstylists.
The salon can be reached at 913-744-5360 and is online at facebook.com/SavvyHairStudioLLC.