Bonner's Brauer Beavers 4-H Club shares spring activities report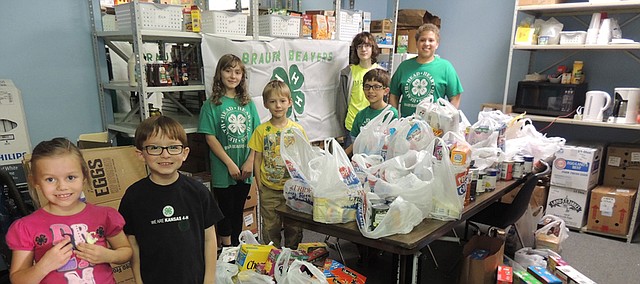 The Brauer Beavers have been a very busy 4H Club in April and May 2015. We had four members participate in Wyandotte County Club Days on April 11. Kameron Zimmerly demonstrated origami and received a purple ribbon. Kamren Brown demonstrated how to make a nutritious smoothie, earning purple, and a project talk on tie dye techniques, earning a blue ribbon. Hazelbell Morche earned a blue ribbon on her crochet project talk. Braden Korgol earned a purple ribbon on his project talk about How to Make After School Snacks Healthy.
The monthly meeting for the 4-H club in April was called to order answering "what is your favorite thing to do on rainy days?" with answers including read a good book, play a board game, sleep, and play in muddy puddles. The club voted to award each of the four members going to county camps a scholarship of $50 for participating this summer. The club concluded a two-month-long woodworking project meeting and voted to give the leader, Ryan Mellick and his family, a gift certificate to Papa Bob's BBQ as a thank you. It was reported that the club earned $300 in cash donations and 325 pounds of food for donations to Vaughn Trent on March 29 at the local Price Chopper. The club participated in the Edwardsville Days Parade on April 25, handing out flyers and walking with the club banner in the parade. Leaders reported that we are forming a committee to compile the history of the Brauer Beavers 4-H Club to pass down and are looking for past members and leaders to assist in the process. We are also forming a committee to hold fall and spring concession stands with a local consignment sale as a fundraiser for future scholarships and club tours. We earned $181 in a bake sale April 18 at the National Agricultural Center and Hall of Fame's Barnyard Babies, despite all of the rain that day. Jarod Mortenson volunteered to lead the committee on the September KC Zoo field trip that will include our monthly meeting. Braden Korgol repeated his club days talk on healthy after school snacks for the other members at the conclusion of the meeting in April.
Most of the members participated in the project meeting held on April 26. Kamren Brown led the tie dying/bleach dying portion. Lauren Edwards led the embroidery portion, teaching how to use thread on felt. Jarod Mortenson led the section on melty beads, with several cool projects being completed. Kameron Zimmerly led the chocolate mold candy section. All of the kids participated in gluing beads and marbles to a bowling ball and grouting it for a fundraiser donation for the Wyandotte Master Gardener's Plant sale on May 2.
We welcomed several new guests recently. Amri Eichen and Wyatt Dale started coming in April. Aiden Jones and Alissa Greenley visited in May.

Annually, our club participates in setting of the American Flags for both Bonner Springs Cemetery and Leavenworth National Cemetery. Jarod Mortenson, Kamren Brown, Kameron Zimmerly, Aiden Jones and Alyssa Greenley took part May 20 in Bonner and Kamren Brown, Justin Korgol, Braden Korgol, and Wyatt Dale took part in the one May 23 in Leavenworth.

Our monthly meeting in May was the shortest one ever, since we only had three members able to come due to other conflicts.