Bonner Springs athletes receive All-
KVL

honors
With the fall sports season now officially in the books for all Bonner Springs High School teams, the school released a list Friday of all the Kaw Valley League honors received by its student-athletes.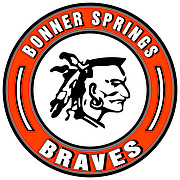 The football team, which finished its season with a 7-2 record, led the way with 14 players recognized by the league. Connor Byers was a three-time All-KVL selection, earning first-team honors as a punter, second-team honors as a quarterback and honorable mention as a defensive back.
Bonner Springs had four players on the first-team offense, including running back Marcell Holmes, wide receivers Hayden Hoffine and Michael Amayo, and lineman Jacob Freese. Lineman Andrew Bryant made the second team, and linemen Josh Adams and Caleb Brungardt made honorable mention. Tight end Jamison Jackson also made the honorable mention team.
On the defensive side, Bryant and linebackers Charlie Gray and Tobias Womack made the second team. Adams, defensive back Caden Henley and linebacker Dustin Hopkins were given honorable mention. Kaleb Hightower was named as the second team place kicker.
The volleyball team had three All-KVL selections with Julianne Jackson, Emily Nelson and Alazia Stanley. The boys soccer team had two selections: Alex Schuler (second team) and Romo Alvaro (honorable mention).
---
Jon Poorman is the sports editor at The Chieftain. Follow him on Twitter at @JonPoorman for all of the latest community sports news.