Bonner Springs business group selects 'Woman of the Year'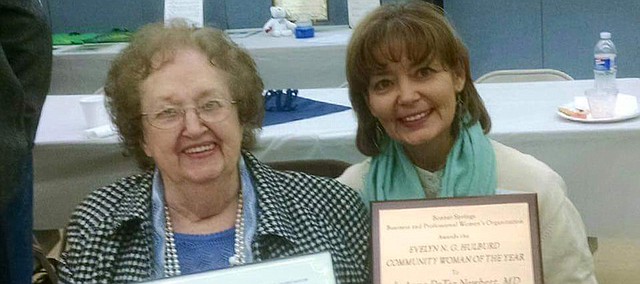 The Bonner Springs Business and Professional Women marked the 70th anniversary of their club in a Nov. 10 ceremony and presented their Community Business Woman of the Year award to LeAnne DeTar Newbert, M.D.
Newbert is perhaps best know for her leadership in organizing the Bonner Springs Community Thanksgiving Dinner at First Christian Church. The BPW also recognized her work on youth mission trips and her volunteer medical director role for Mercy and Truth Medical Missions in Kansas City, Kan.
Additionally, Newbert volunteers with Heart to Heart International, helped establish the Feed His Lambs ministry and organizes and supervises the Tiblow Days breakfast at First Christian Church.
Newbert is currently pursuing a master of divinity degree at Central Baptist Theological Seminary in Shawnee.
"She has been, and continues to be a role model for all ages," Dawn Simmons, BPW president, said. " ... Truly a woman helping women and their families."
The club also recognized member Norma Ward for 65 years of membership in the club. Ward's mother was a charter member of the club.
The National Federation of Business and Professional Women's Clubs was established in 1919, and the Bonner Springs Club was chartered in 1945 with 59 members. The founding president was Evelyn N.G. Hulburd, a successful local insurance agent.
The club is involved with Tiblow Days and Marble Day, was the sponsoring organization for the first Martin Luther King Celebration in Bonner Springs, helped purchase of the Fire Safety House, and founded the annual Christmas Parade, today known as Candy Cane Parade, for the purpose of kicking off the annual Vaughn-Trent Christmas Basket project for collection of food.