Face to Face: Bonner Springs Elementary teacher Ea Trumbo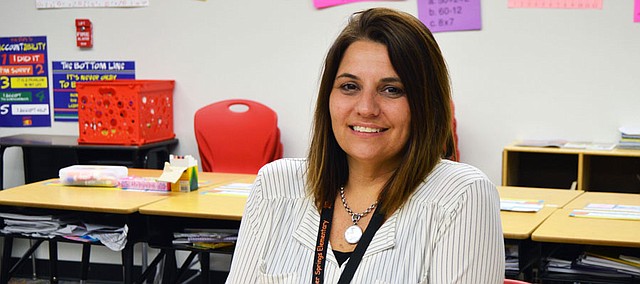 Name: Ea Trumbo
Birthplace: St. Joseph, Mo.
Family: husband, Jack Junior, and three children, Karli, Trey and Samantha
Occupation: Fourth grade teacher, Bonner Springs Elementary
Dream job as a child: Trumbo doesn't remember having a particular dream job.
She says in school, her favorite subject was probably math, leading her to her first career as an engineer.
Hobbies: Going to her children's functions, which include various sports and choir, she doesn't have much time for hobbies, but she enjoys painting and cooking.
Digging deeper: Before becoming a teacher, Trumbo worked as an engineer for four years, but the company she worked for moved to Malaysia. She owned her own painting business that helped her stay home with her children for a period, but as her children entered school, she decided to follow a new career path.
Trumbo went back to school and took several introduction classes, one of which was Introduction to Teaching. She said teaching is something she wouldn't have considered as a child, but she enjoyed the classroom observations involved in the course.
"I think I was not a very good student in school, so that probably drives my passion to teach kids," she said.
Trumbo has been with USD 204 for nine years and says she thinks teaching was definitely the best career choice for her.
"It is the hardest job, but it's the most rewarding job, and I really like to be there to help the kids," she said. "My favorite part of the day is when they come in and tell me about their day, and if they are having a bad day, helping them make it better – really interacting with the kids I guess is my favorite part."
Her attention to the personalities and social skills of her students this year is what earned her selection as November Teacher of the Month for the Bonner Springs-Edwardsville Chamber of Commerce.
Kim Mitchell, BSE principal, said when this year's class was not getting along and focusing on its lessons, Trumbo recognized it was necessary to do some team-building exercises in order to create a harmonious environment and move forward with lessons.
Trumbo said she wasn't expecting the recognition.
"It was just an honor to get it, because I often feel like I don't do enough in the classroom," she said. "I feel humbled by it."