Giving your 2 cents: Unified Government gathers comments on spending expected revenue increase
STAR

bond payoff should increase sales tax revenues by $12 million annually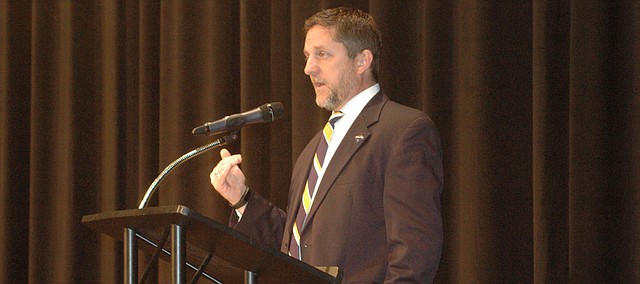 Unified Government Mayor Mark Holland told a crowd at the Bonner Springs High School auditorium Tuesday to have some fun.
"You get to 'spend' $12 million today, and you don't get to do that every day," he said.
The attendees at the District 7 stop on Holland's Listening Tour were there to tell him how they would like the Unified Government of Wyandotte County and Kansas City, Kan., to invest $12 million the county expects to receive in additional sales tax revenues in a couple of years.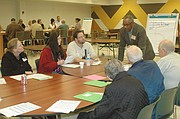 The boon will come because the STAR bonds, which are paid off through sales tax receipts, used to finance the Village West area should be paid off in 2017.
Holland began the event by giving some history of Kansas City, Kan., and the county's government, acknowledging that the Unified Government has one of the highest property tax rates in the area.
"My family has been around long enough to see the city rise and then fall, then rise again," he said. "There's been a lot of dramatic change in Kansas City, Kan."
In 1950, Kansas City, Kan., was the largest city in the state, and in 1960, it had a population of 185,000, Holland said.
From 1960-2000, Kansas City, Kan., lost 60,000 white residents, and though 30,000 residents of other ethnicities moved in during the same period, it still made a major impact.
"That loss of population was devastating to our economy, it was devastating to our community," he said. "We went from 20 percent above the median household income in 1960 to 20 percent below the median household income by the year 2000."
Holland said the transition lead to about 10,000 empty homes in Kansas City, Kan., leading to lower valuations, which lead to increasing taxes. The Unified Government now owns 6,000 empty lots where homes fell down or were torn down.
"The 6,000 empty lots don't pay property taxes, which raises the burden on the other property owners in the city," Holland said.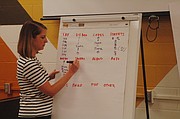 Holland reviewed the 1999 public vote to unify the Kansas City and county government to create efficiencies, which he said did reduce property tax rates by 16 percent. He said the following development of the Kansas Speedway and then Village West or Legends area changed the county dramatically. He said $450 million in STAR bonds were used in the area, leveraging $1.5 billion in private investment.
"Kansas City, Kan., and Wyandotte County are in a tremendously positive position now," Holland said. "I can quantify numerically what the Legends has meant to our community; its hard to quantify the benefit of moral, of the community seeing success within ourselves and seeing us move forward."
The area now generates $650 million in sales, and with STAR bonds, two thirds of the sales taxes in the area a used to pay off the bonds that funded the infrastructure. When they are paid off, the Unified Government should receive about $12 million in additional sales taxes, though Doug Bach, county administrator, noted that only about $1.2 million are sales taxes that would go to the county.
Because most of the revenue influx technically will go to Kansas City, Kan., some District 7 residents had trouble in their break-out groups recommending where the funds should go because they live in Bonner Springs or Edwardsville.
"Even though many of the things we're going to look at tonight are city services that reflect on Kansas City, Kan., I believe that Kansas City, Kan., being healthier is better for our whole county," Holland said.
As Holland released the attendees to group discussions, he reminded them that putting the funds toward property taxes won't help residents realize much in savings. He said if all of the funds were put toward mill levy reduction, residents in a $100,000 home would save about $150 per year.
Still, some in the groups supported tax reduction.
"If you have less taxes in the county, more people might want to live here," Steve Roush of Bonner Springs told his group moderator. "Quite often I've tried to convince (my wife) not to move away because of the property taxes."
Louis Adams of Kansas City, Kan., another member of Roush's group, said he thought $10 million should be put toward property tax reduction annually.
Holland said that in the previous six meetings, residents seemed to suggest about $2.5 million be put toward property tax reduction annually. After that, he said the top three areas receiving support for funding tended to be parks, roads and sidewalks, and services for the elderly or youth.
At the Bonner Springs City Council meeting last week, Mayor Jeff Harrington said he would like to see the Unified Government use some of the funds to revitalize a program that would help the county's cities finance large road and bridge construction projects.
Results of each of the Listening Tour stops can be found at wycokck.org/Listen. Officials said it would take two to three weeks before results from Tuesday's stop would be posted.