Bonner Rotary club gears up for return of Vaughn-Trent auction
Social services organization in need to maintain operating expenses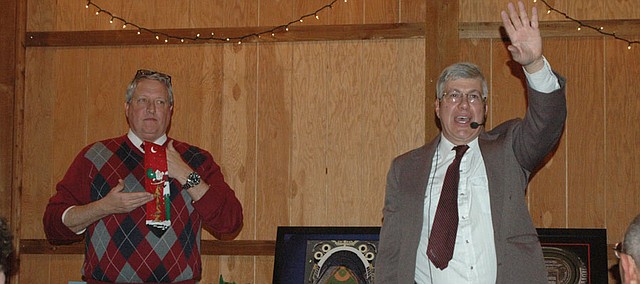 At the Bonner Springs Rotary Club's Annual Holiday Banquet, an auction event benefitting Vaughn-Trent Community Services, bidders have been known to bid several hundred dollars on a rather tacky Christmas tie.
But it has all been in the name of charity, and after the club combined the Vaughn-Trent fundraiser with its Speakeasy event last year, the auction event will return this year with a few changes. It is set for 6 p.m. Thursday, Dec. 3, at the National Agricultural Center and Hall of Fame.
In the past, the club has combined an evening of food and entertainment with a live, and rather long, auction event for various items, some of them even wrapped so the bidder didn't know what they were getting.
Marva Sproules, who joined the club in 1991, said the tradition of the Christmas tie started in the years when community and club members like Ed Roberts, Charlie Berkel, Lawrence Theno and Jim Coleman were attending the event.
"We had a lot of them bidding against each other, to the point where they didn't even know what they were bidding on, they were just bidding each other up," Sproules said. "In fact one time, they stole Ed Roberts' tie and turned it into a bid item, and it got up to $500."
In those years, Sproules said, donors gave straight from the heart no matter what they were bidding on.
"They know whatever check they write, it goes to Vaughn-Trent," she said.
Hoping to adapt a format that has become more popular for auction events, this year's banquet will feature both a silent and short live auction. Dinner and a performance of seasonal songs from the Bonner Springs High School Choir also will be included.
Though the format has changed, the club hopes the community will still make an effort to be generous for Vaughn-Trent, Sproules said.
"If you've ever seen that line on Oak Street when they're open, you think 'Oh gosh, all these people need help?'" Sproules said. "It's quite something."
Rachael Nickerson, executive director of Vaughn-Trent, said while the organization is grateful for the annual donations to its food pantry, it appreciates the auction event because it's the only long-running annual event that helps fund the organization, aside from Vaughn-Trent's own fund drive.
"It's especially special to us because we don't do all the up front planning," she said. "We're small, and that's a huge undertaking."
Vaughn-Trent is currently overflowing with the food pantry donations that will help it organize its annual Christmas Baskets, and it just received a second grant from AT&T that will help it provide utility assistance. But Nickerson said making sure they have enough funds to pay the bills is important, too.
"Nobody thinks about paying our rent and utilities, but that's what is needed," she said. "Most grants don't cover operating expenses like that."
The club is still seeking additional auction item donations, and $20 tickets for the event are available through Sunday. Tickets are payable at the door, but must be reserved by contacting Sproules at 913-441-2584 or sending an email to bonnerrotary@gmail.com.