Bonner Springs girls focused on defense
It was the third day teams could officially practice across the state of Kansas, and Bonner Springs girls basketball coach Clay Oakes wasted no time going over the fundamentals.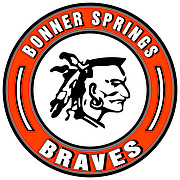 Where most teams are wrapping up tryouts, Oakes knew which players were varsity and which were junior varsity. On this particular day, he was going over defense, which his teams pride themselves on.
The Lady Braves won't be as big this year, but they'll be more athletic. They lost center Mikaela Bennett to graduation, but bring back Julianne Jackson — who has been on varsity since her freshman year — as well as Tonya Hernandez, Miyah Hightower and Kennedy Bacon.
Oakes said the goal this season is to hold as many teams under 40 points as possible. If they can do that, he thinks they'll have a chance to win a lot of games. He also likes the Lady Braves' chances of qualifying for state now that they have moved up to Class 5A.
"Obviously we don't ever have to worry about seeing Bishop Miege," Oakes said. "That does excite us. We know that in the eight-team sub-states with the format that it is in 5A and 6A, two teams go to state instead of one in 4A. So you get a little better opportunity there, but it's still going to be tough. Not that 5A is any easier, but we're excited to know we're going to have a little better of an opportunity."
The biggest challenge for Bonner Springs is going to be a lack of size, as Jackson is the tallest player on the varsity roster at 5-foot-9.
"It will be interesting having to stack up against some taller players," Jackson said. "We play well as a team, and I think when you play well as a team, you can play good defense. Like Oakes always says in practice, we're one of the best defensive teams, and that's what wins our games."
Oakes said the Lady Braves don't have a true center in their offensive scheme they are running this season. He added Jackson will be doing the same things she's been doing the past three seasons. He'll call her a five, but sees no difference between the four and five spots on the floor.
When it comes to finding a replacement for Bennett, Oakes believes Bacon could be the answer.
"It's tough to replace somebody like Mikaela because of the rebounds and the strength she gives us inside," Oakes said. "She was a good defensive player. Her leadership and her work ethic were second to none. She gave 110 percent all the time, whether that was practice or games. That's one of our question marks."
Bacon has a high motor and is about the same height, but isn't built the same way as Bennett. However, Bacon is a little more athletic and is a better leaper. She'll be quicker on the defensive end of the floor, too.
Oakes said his team is about seven deep right now, with Shaunie Lanning taking over the three spot for the now graduated Caitlin Reed. He also has Washington High transfer Adrianuna Sirls, who will come off the bench. That's something the Lady Braves lacked a season ago.
"We're going to have to look at our youth, some of our sophomores, as far as coming off the bench and giving us some minutes," Oakes said. "We'll be looking at Olivia May, who may have to come in and give us some minutes."
Hernandez, who took over the starting point guard role around winter break, is confident in her ability to lead the team.
"We all know each other very well, and we have a lot of chemistry together," Hernandez said. "It's going to help us a lot because we know each other's strengths."
Jackson said the core group of girls have been playing together since third grade, and that's something she's going to miss once the season is over.
Her first love is volleyball, and she's committed to play at the University of Nebraska at Kearney, but has loved her time on the basketball team at Bonner Springs.
She's a few rebounds away from breaking the school record, something Oakes thinks will fall before winter break. But Jackson isn't worried about breaking records. She wants to win the preseason tournament in Paola, win the Kaw Valley League and possibly make a run to state.
Oakes said she is a great part of all the success Bonner Springs has had in the past three years. He wants to give her the best memories from her senior year that she can take with her and reflect back on in the future.
"I want to leaven an impression on the younger girls," Jackson said. "Even if basketball isn't the one thing they love the most, they can still come out every day, work their hardest and still enjoy it. It might not be their favorite thing ever, they might not like it much at all, but they can still make a lot of friends."
The Lady Braves open the season Dec. 4, at Basehor-Linwood High School.