Face to Face: Basehor veterinarian Nikki Green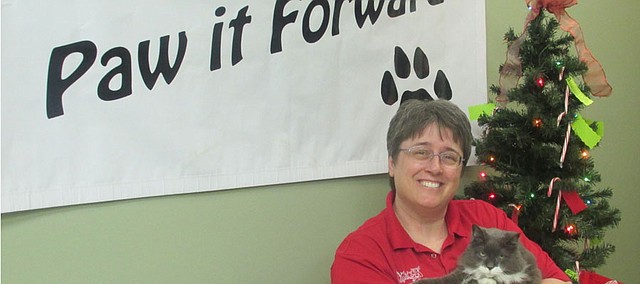 Name: Nikki Green
Birthplace: Fort Myers, Fla.
Family: Husband, Gary, and cat, Mary Catherine; sister and father
Occupation: Lead veterinarian and owner, Wolf Creek Veterinary Clinic, Basehor
Dream job as a child: "I did not know what I wanted to be," Green says. "I only knew I wanted to have a job and not be homeless."
Hobbies: Green says she doesn't have a lot of time for hobbies, but she enjoys reading and spending time with her nephew.
Digging deeper: Green said she moved to Kansas as a teenager in 1990 and though she started taking several college classes after completing high school, she still hadn't selected a major. Her mother encouraged her to be a banker, lawyer or doctor, but she said inspiration struck on a drive with her husband on 142nd Street, looking at deer roaming the side of the road.
"He said 'Why don't you become a veterinarian,' and it was like a light bulb went off," Green said.
Green started volunteering at Tuttle Veterinary Clinic in 1993 and entered veterinary school two years later, graduating in 1999. She immediately began practicing with John Tuttle at his clinic and fully took it over in 2009, renaming it Wolf Creek.
A second veterinarian, Sarah Maddox, joined it in 2010. With clients largely from Basehor, Bonner Springs, Piper, Leavenworth and Lansing, the practice keeps busy.
Wolf Creek Veterinary Clinic was named the Basehor Chamber of Commerce's Business of the Month for November. Green said she thinks her clinic is popular because of the quality of care they provide.
"We focus on preventative medicine, because if I can prevent a disease, the pet, the owner, their happiness and well being is going to be better than it would be after we start treating the disease," Green said. "We pride ourselves on good customer service."
The clinic is currently running its annual "Paw it Forward" donation drive for the holiday season, accepting donations for Bonner Animal Rescue, the Safe Harbor Prison Dog Program and Leavenworth County Humane Society. Wish lists for each group are posted on the clinic's Facebook page and at the clinic, ranging from monetary gift to cleaning products to dog and cat food.