Bonner Springs blows out Piper in
KVL

action
Bonner Springs — The Bonner Springs High School football team ran roughshod over the visiting Piper Pirates on Friday evening, celebrating Homecoming with a resounding 52-0 victory at David Jaynes Field.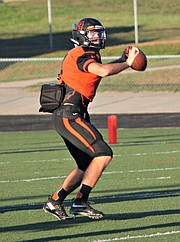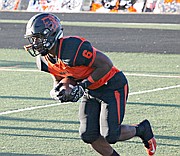 The No. 4 state-ranked Braves (5-0) were led by quarterback Connor Byers, who piled up 407 yards of total offense and six touchdowns. The senior signal caller rushed for 159 yards and three scores on nine carries and finished 12-for-22 through the air for 248 yards and three more touchdowns.
Bonner Springs collected 492 total yards as a team, striking a perfect balance of run (244) and pass (248). The Braves averaged nine yards per carry behind the robust starting offensive line of Caleb Brungardt, Joshua Adams, Sean Singleton, Andrew Bryant and Jacob Freese.
On the other side of the ball, the Braves held Piper (1-4) to just 90 yards, including 33 yards on 27 carries on the ground. Charlie Gray recorded an interception, and Solomon Young forced a fumble that was recovered by Blaine Grimes.
"I just liked that they competed really hard," Bonner Springs coach Lucas Aslin said. "Our quote this week was 'The separation's in the preparation.' We wanted to make sure we competed. We knew what they were doing offensively, defensively by their sets, and we wanted to go out there and exploit it early. The kids played very, very well."
The Braves got the scoring started with 7:18 to play in the first quarter as Byers scored on an 11-yard run. On Bonner Springs' next possession, he was back at it, rumbling 76 yards for another score and a 14-0 lead.
"Byers is a difference-maker for us," Aslin said. "He's a good player, and we just want to keep him healthy and keep him ready to roll. He's not only a great quarterback, but he plays defense, too. It's nice to have him back. He played really well, and he's feeling good."
Bonner Springs kept its foot on the gas in the second quarter as Byers found Caden Henley for a 15-yard touchdown pass early in the period. The Braves' defense then got into the action as a flock of tacklers, led by Singleton, brought down Piper running back Sterling Owens in the end zone for a safety and the 23-0 lead.
Byers then took to the air, hitting Hayden Hoffine for a two-yard touchdown and Michael Amayo for a 71-yard score. That gave the Braves a 36-0 advantage with 6:28 to play before halftime. Amayo finished with a team-best 103 yards receiving on just two catches. Aaron McGee added three catches for 63 yards.
Bonner Springs wasn't done there. Byers scored on a three-yard run, and Marcell Holmes plunged in for a one-yard touchdown to put the Braves up 49-0 at the intermission. Holmes finished the game with 81 yards on 15 carries.
"The coaches were on our backs about doing the little things right and executing at a high level," Byers said. "All of the offense did that tonight, and it really showed throughout the first half and the whole game."
Bonner Springs will be back in action at 7 p.m. on Friday as it pays a visit to Tonganoxie.
---
Jon Poorman is the sports editor at The Chieftain. Follow him on Twitter at @JonPoorman for all of the latest community sports news.