Bonner Springs thumps
KVL

rival Tonganoxie
The Bonner Springs High School football team remained unbeaten with a convincing 55-6 road victory over Kaw Valley League rival Tonganoxie on Friday, improving to 6-0 overall and 4-0 in league play in the process.
The Braves jumped out to a 21-0 lead by the end of the first quarter and walked into the locker room with a 35-0 advantage.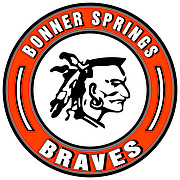 Bonner Springs was led by quarterback Connor Byers, who finished the game 12-for-18 for 262 yards with three touchdowns and no interceptions. He also added 108 yards and three touchdowns on the ground on just eight carries. Running back Marcell Holmes finished with 60 yards on 16 carries.
Backup quarterback Coleton Oakes also played well in relief, completing 3-of-4 passes for 65 yards and a touchdown.
Michael Amayo was the Braves' leading receiver, hauling in three catches for 119 yards and three touchdowns. Aaron McGee caught four passes for 60 yards, and Hayden Hoffine caught three for 54. Caden Henley also got into the action with two catches for 50 yards, including a touchdown.
The Braves' defense was led by Dustin Hopkins and Tobias Womack, who each finished with 10 total tackles. Charlie Gray finished with six tackles and a sack, and Jamison Jackson, Byers, Tanner Hitchcock and Andrew Bryant each had interceptions.
Bonner Springs will be back in action at 7 p.m. on Friday as it plays host to Turner.
---
Jon Poorman is the sports editor at The Chieftain. Follow him on Twitter at @JonPoorman for all of the latest community sports news.